2019 - Verbruikerstudie

Die Graad 11-leerling is hard besig met die voorbereiding vir vandag se prakties ! Alles moet net reg.

Dis nie net die smaak wat saak maak nie, dit moet nog netjies en keurig voorgesit word.

Reg met die eindproduk !!! Hier is 'n paar leerlinge met hulle voorleggings. Welgedaan dogters !

Mmm, ek wonder of Juffrou kan hoor hoe klop my hart ! Juffrou Lisa se oog mis niks ...


Natuurlik wag die opruiming na die tyd. Elke ding moet silwerskoon en op
sy plek weggepak wees.


TEGNOLOGIE

Graad 9 - 2019


Kersfees is om die draai almal se beursies is "plat"! Mev. Maryke Durow het die graad 9's aan die dink
gesit - hoe maak mens bruikbare geskenke uit plastiek ? Met die opdrag het die kreatiwiteit oorgeneem.
Dit was nou 'n opdrag wat mens kan sien die leerlinge geniet het. Dit was potplanthouers, spaarvarkies,
honde wat geen kos, water of aandag benodig nie, unieke verpakkingshouertjies, 'n pennesakkie van
'n leë pakkie skyfies en vele ander bruikbare artikels.

Hier is 'n paar leerlinge met hulle unieke geskenke uit "rommel". Komaan outjies, maak hierdie vakansie
jou eie geskenke !

Lukas met sy tuintjie binne-in 'n plastiekhouer. 'n Oulike geskenk vir Mamma !




Graad 2's - 2019


Die Graad 2-klas van Juffrou Bonita Avenant het meer geleer oor KOMMUNIKASIE.



Die Graad 2-klas van Juffrou Anna-Lize Coetzer het ook hulle slag gewys met KOMMUNIKASIE en ook
meer oor ons Landvlag geleer.


2019 - Entrepreneursdag !!!


Jaarliks heers daar groot opwinding in Graad 7, wanneer dit tyd is om hulle
sakevernuf ten toon te stel. Onder die leiding van Juffrou Karlien Lombaard
moes leerlinge hulle eie begrotings opstel en natuurlik hul wins bepaal. Die
week vooraf is plakkate gemaak en opgesit om voornemende kopers te in-
spireer om sakke vol geld saam te bring. Baie geluk Gr.7's - dit was 'n
suksesvolle dag !





2019 - Gr.8 Kimberleyuitstappie
'n Klompie leerlinge net voor ons vertrek na Kimberley.

Ons kon darem 'n idee kry van hoe diamante lyk, hoewel dit alles nagemaak is.

Ons het meer te wete gekom oor die "Grootgat"

Mens kan byna nie jou oë glo as mens dit van bo-af bekyk nie.


Op die model hieronder kan gesien word hoe daar gemyn is en hoe dat
die water begin uitsyfer het. Daar is toe besluit om tussen die twee lae
water afwaarts te myn


Natuurlik moes ons ook die Trem ry !

Almal van ons dink dat dit 'n baie leersame dag was.

Oral op die terrein het hulle die winkeltjies behoue laat bly soos dit in daardie dae gelyk het.

Daar was selfs vervoermiddels uit daardie era.


Baie dankie aan die onderwysers wat dit vir ons moontlik gemaak het om 'n besoek aan die "Die groot
gat" te bring. Meneer Hardus Coetzer wat die bus bestuur het, Juffrou Anya Maree en Juffrou Anna-
Carien Kruger wat ons vergesel het.
Dankie ook aan Marlize Britz en Karliena Janse van Rensburg (hieronder) wat
foto's geneem het om die ervaring met almal te deel.



2019 - KUNS GR.4
Juffrou Willie Marais het die Gr.4-leerlinge gevra om 'n gelukkige dieregesin voor te stel deur van
kleimodelle gebruik te maak. Was dit nie 'n hele dieretuin in die kleine nie ! Daar was slange, muise,
ystervarke, honde, katte … Noem maar op - die hele ark was omtrent teenwoordig.





2019 - REKENINGKUNDE
Dis die klas om by te woon as jy wil weet of jou besigheid 'n sukses gaan wees of nie ! Dis kasboeke,
joernale, grootboeke … maar die belangrikste is, alles moet klop. Tydens eksamen voel dit mos altyd
jy het nie genoeg tyd nie, niks klop nie ! Meneer Ronnie Brewis verduidelik hier wat die goeie beginsels
is vir 'n suksesvolle besigheid en wat die slaggate is waarvoor jy op die uitkyk moet wees.





2019 - REKORDEKSAMEN


In Januarie het dit sekerlik vir elke matriekleerling gevoel asof die einde van die jaar nog ver in die
toekoms lê … Hier sit ons (Gr.12's) die begin van die rekordeksamen - Stelwerk ! Almal is die ene
konsentrasie en wil graag goed voel na die eerste vraestelle. Mev. Lois Olevano hou net so 'n ogie en
skep 'n gevoel van kalmte in 'n borskas wat voel of dit wil ontplof !!!


Net voor ons ingestap het, was die wyse woorde op 'n bord reg langs die eksamenlokaal … Sterkte aan
elke leerling wat nou gereedmaak om een van hulle belangrikste eksamen af te lê.



2019 TEGNOLOGIE


Ons Graad 9-groep moes 'n probleem oplos: Ontwerp en maak 'n toestel vir 'n dowe
persoon wat in 'n eenslaapkamer woonstel woon. Die toestel moet die funksie van
'n deurklokkie oorneem en die persoon dus waarsku wanneer daar gaste by die voor-
deur is.



Anders as gewoonlik speel klank hier glad nie 'n rol nie - 'n dowe persoon is visueel ingestel.
Die opdrag het beslis vir baie pret en opwinding gesorg. Juffrou Maryke Durow het
elkeen se model sorgvuldig deurgegaan en ons wag inspanning om te sien hoe ons gevaar het.



2019 - VERBRUIKERSTUDIE


Dankie tog vir Juffrou Lisa ! 'n Vaardigheid wat besig is om uit te sterf word aan ons leerders
oorgedra. Wanneer laas het jy tuisgemaakte konfyt en blatjang geëet ?
Hier staan 'n groepie BAIE trotse leerlinge met hulle eie handewerk !



GRAAD 3 - KIMBERLEY UITSTAPPIE
Uiteindelik het die grootdag aangebreek - ons uitstappie na Kimberley !!! Vroeg reeds is ons per bus na
Kimberley. 'n Gids het saam met ons beweeg en ons baie interessante feite vertel en dinge gewys wat
vroeër jare gebruik is tydens die diamantbedryf in ons omgewing.



Waaroor alles gaan - die "Groot Gat". Moed moes eers bymekaar geskraap word om af te kyk. Hoekom
voel dit of die water mens wil intrek ?



Gelukkig maal Mamma se woorde deur my kop: "Boeta, hou
net vas en moenie die reëling los nie !" Ek het nie !


Ons kon natuurlik nie wag om op die "Trem" te ry nie ! Baie soet het ons gesit en wag ..

Dit was 'n belewenis om in die Trem te ry terwyl die verkeer om ons is.

Dit is seker hoe die "Koninklikes"

voel wanneer hulle met ' n koets /

ampmotors in die strate ry.


By die mynskag het ons gids vertel dat wanneer jy een van die groterige klippe skud en jy hoor "iets"
binne, dit heel moontlik 'n DIAMANT is ! Onnodig om te sê - elke klip is daarna geskud !
Mnr. Bester,ons busbestuurder, juffrou Alta en Rina, baie dankie vir die geleentheid wat ons gehad het
om Kimberley te besoek en meer te leer oor die diamantbedryf, nou en in die begin jare.



KUNS GR.3
In die kunsklas van Juffrou Rina moes die leerders "iets skep" uit afvalprodukte.
Was die klomp nie kreatief nie ! Kyk self na die kleurvolle blikkies, kartonnetjies
en botteltjies. Jy kan op die gesiggies sien die projek was lekker !



2019 - AFRIKAANS HUISTAAL
Andre Stolz Produksies besoek ons skool jaarliks met die voorgeskrewe werk wat daardie jaar met die matriek
leerlinge behandel word. Vanjaar was dit weer die geval met die stuk "Onderwereld". Die akteurs is deur
Mev. Lois Olevano genooi om ons leerlinge, en die omliggende skole, te kom vergas met hulle puik spel.
Verlede jaar het die produksiespan van Onderwereld, die "Naledi Teatertoekenning" vir die "Beste Produksie
in Jeugteater" ontvang.



Terugvoering van een van ons eie leerders - " Nadat ons die roman in die klas behandel het en die
geselskap dit vir ons op die planke gebring het, val die hele letterkunige werk soos 'n legkaart inmekaar."



Baie dankie Juffrou Lois dat juffrou soveel insit en ons so goed voorberei vir ons finale eksamen. Hoop
nie ons stel Juffrou teleur nie !



2019 - REKENAARTOEPASSINGSTEGNOLOGIE
Seker een van die gewildste klasse in die skool. Hoekom ?
Wie wil nou agterbly met die nuutste tegnologie !!! Mev. Dalene
Nieuwoudt, een van ons meer senior onderwysers, is die bewys
dat - waar 'n wil is, is daar 'n weg !
In die klas weet jy presies wat van jou verwag word - die reels op
die deur verwelkom jou ...



'n Verrassing wag vir die wat dink dit is "games" wat gespeel word ! O nee, jy word geleer om
opdragte / inligting netjies uiteen te sit d.m.v. tabelle en kolomme. Jy skep jou eie databasis en
ontwerp jou eie webblad. Hier word jy geleer om deeglik en netjies te werk. Of jy nou eendag
jou eie besigheid het, of jy vir iemand gaan werk, 'n huisvrou is of 'n entrepreneur is -
rekenaartoepassingstegnologie is 'n moet !



Graad 1-Opedag
Vanjaar is die voornemende graad 1's van 2020 in die skool se Lapa ontvang. Hier het hulle kennis
gemaak met die nuwe Juffrouens - Juffrou Elize Jordaan en Juffrou Annelene Badenhorst. Die
skoolhoof meneer Paul Bester is aan die nuwelinge se ouers voorgestel, waarna hulle meer oor
die skool ingelig is. Die tema van die dag was oral sigbaar ! Dit was net visse en ander seediere,
maar die "duikboot" het beslis aandag getrek ! Daar was selfs seekatte - vriendelike seekatte EN
haaie. Die kleinspan is bederf met iets vir die magies waarna hulle speletjies gespeel het op die
sportveld. Maats ons kan nie wag om julle deel van ons "skoolvisse" te maak nie !!!


LEWENSWETENSKAP -2019


In Lewenswetenskap leer en beleef ons dinge wat sommiges van ons dalk nooit ooit weer sal beleef nie.
Verbeel jou, regte longe … ! Eers wou niemand dit van naby bekyk nie, maar toe die ergste brrr… verby
was, was dit baie leersaam. Nooit geweet my linkerlong is kleiner as my regterlong nie. Natuurlik om vir
jou hart plek te maak.


Sjoe, kyk net hoe verander die long wanneer lug ingeblaas word !


Ek moet 'n foto neem ! My maats gaan dit nie glo nie ! Dankie meneer Johan Bester dat jy die klas so interessant gemaak
het. Wonder wat is volgende ?



KUNS !!!
Vorm, lyn, tekstuur, kleur, skadu, figuurstudies. Nadat ons dié begrippe baasgeraak het, was dit tyd om alles bymekaar te
bring. Die Gr.8-leerlinge moes elk 'n figuur teken. 'n Geskikte agtergrond moes aan die skepping gegee word en
verskillende tegnieke moes gebruik word om die opdrag te voltooi. Nou is dit in Juffrou Anya Mareé se hande of ons
die opdrag geslaag het !


2019 - LEWENSWETENSKAP
In die Lewenswetenskapklas het die Gr. 12's die oog gedissekteer. Onder meneer Johan Bester
se geoefende oog is daar na die bou en ander belangrike feite rondom 'n mens se oog gekyk.
O ja, moenie dink dis 'n kompliment as iemand sê jy is 'n regte volstruis nie - 'n volstruis se oog
is groter as sy brein !
Trek maar ook die boeke nader - 'n mens lees gewoonlik 25% stadiger op 'n skerm as op papier.

GRAAD 8 - KUNS
Die Graad 8-leerlinge in Juffrou Anya Maree se klas het dit goed gedink om 'n paar uitrustings te ontwerp vir die naderende matriekafskeid.
Errol Arendz, Simon Rademan en Marianne Fassler moet tog seker een of andertyd "die skêr neerlê " …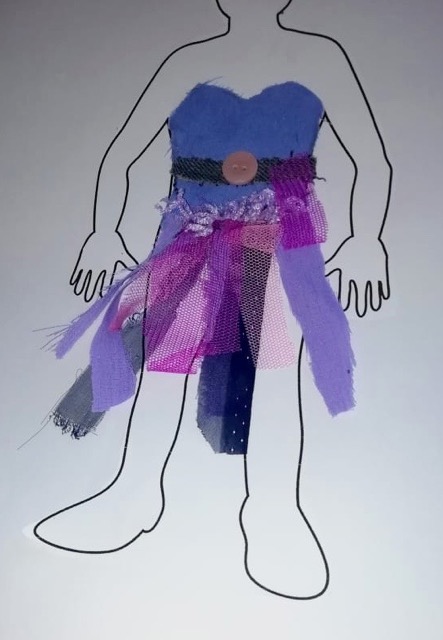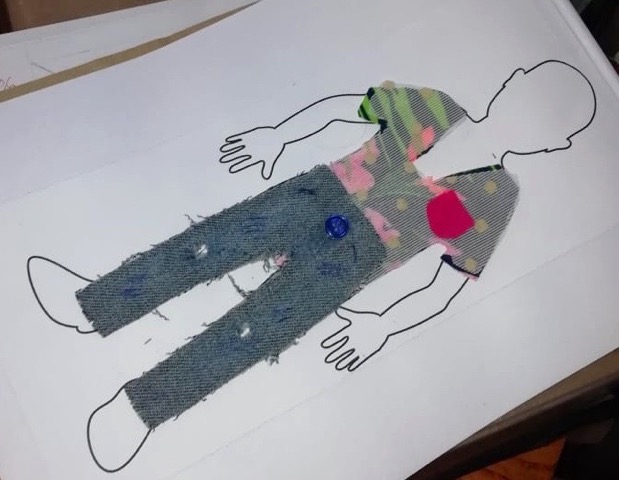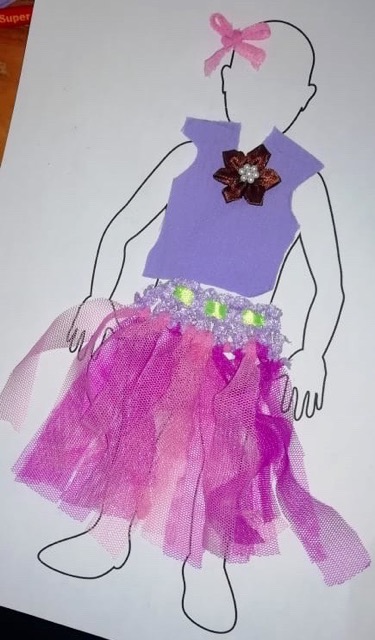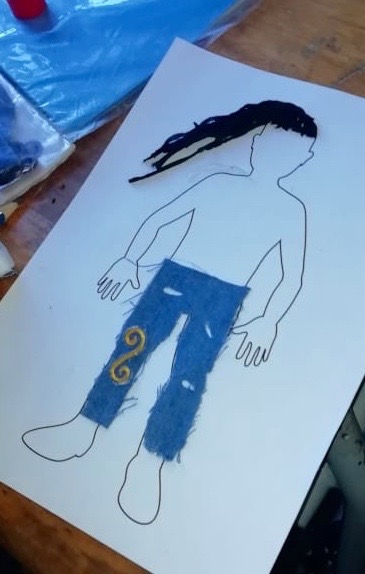 Tweede kwartaal - Eksamentyd !!!
Tydens die afgelope eksamen moes die Graad 12 en Graad 11 leerlinge hardwerk aan hulle praktiese punte. Heelwat dinkwerk moes ingesit word in die aanbieding van hulle onderskeie disse. Soos julle kan sien was dit 'n groot sukses en wat 'n verskeidenheid was dit nie !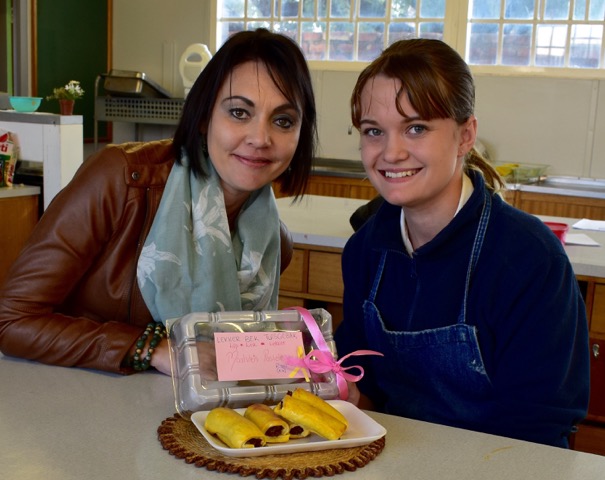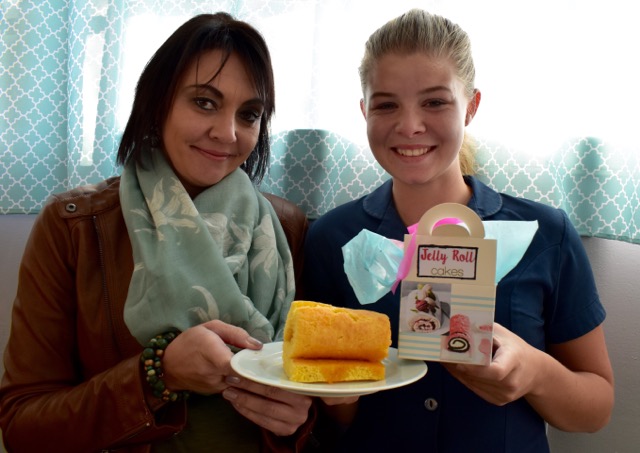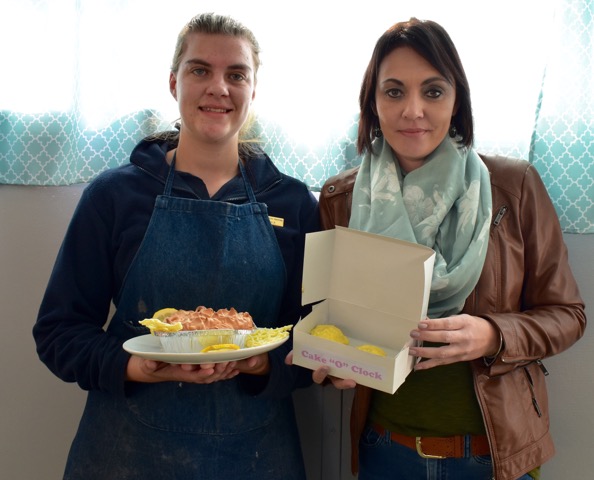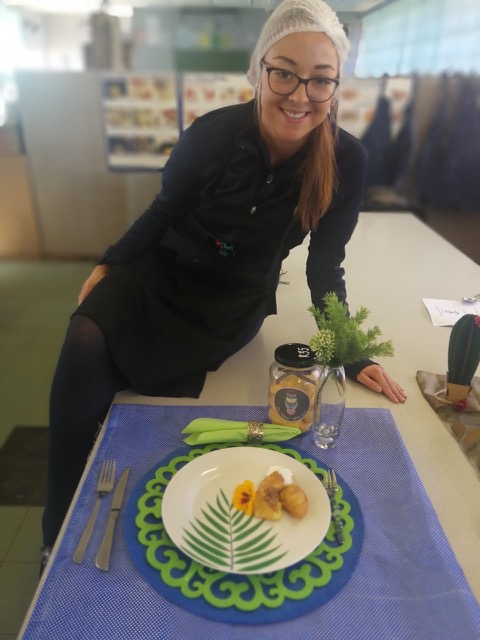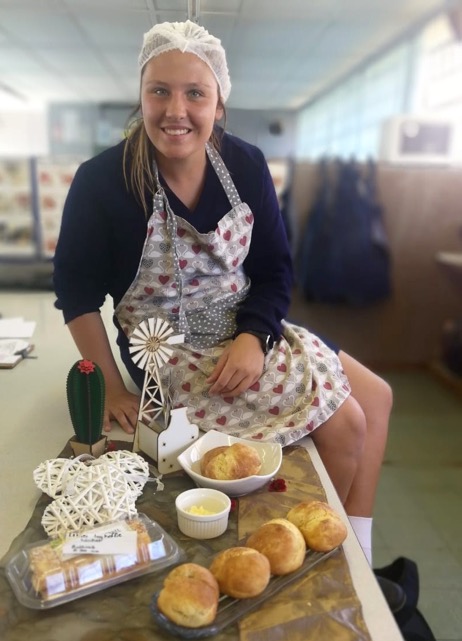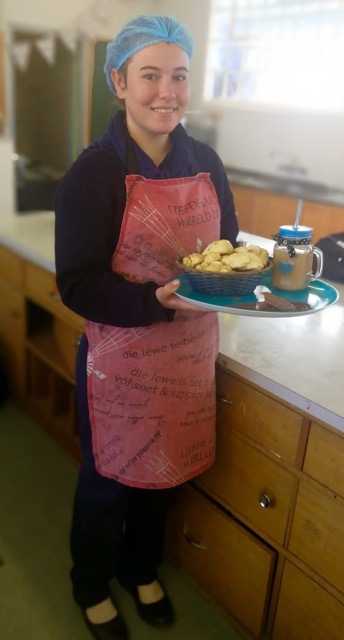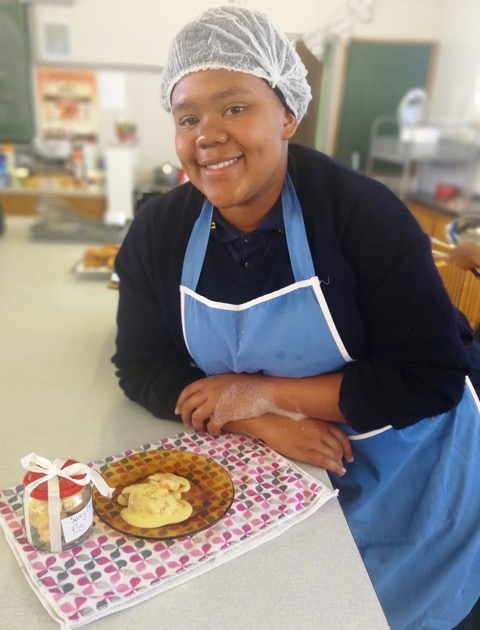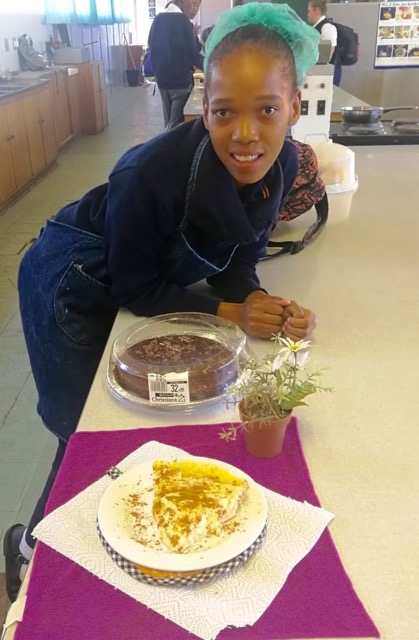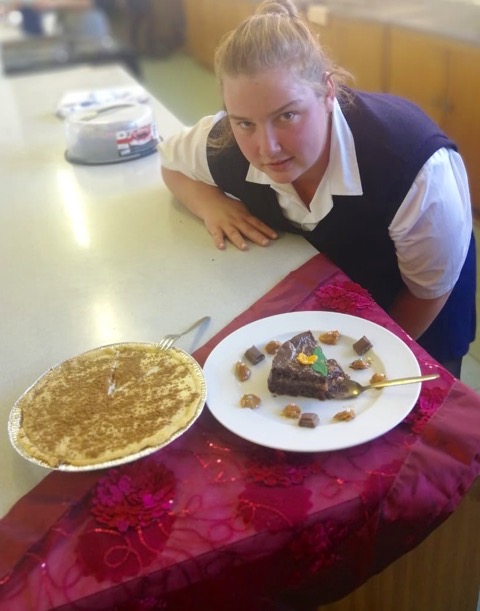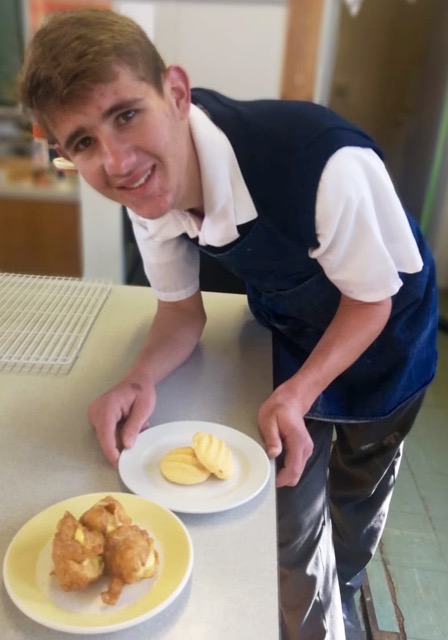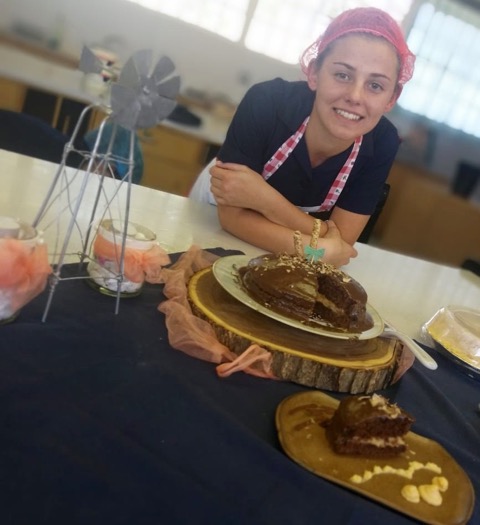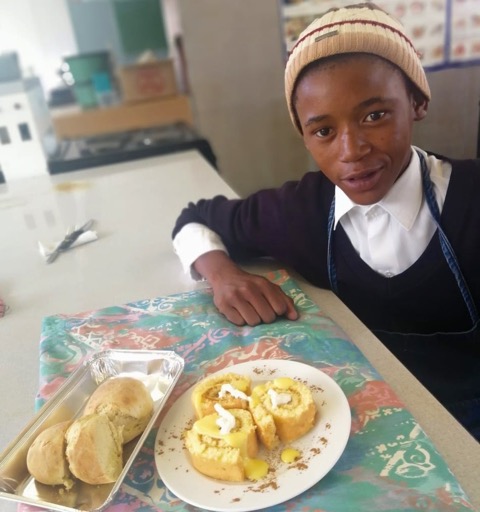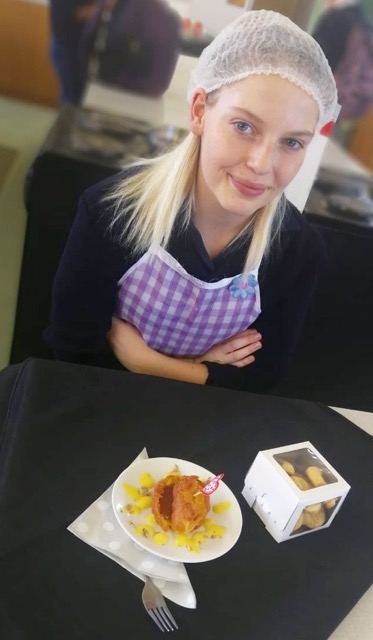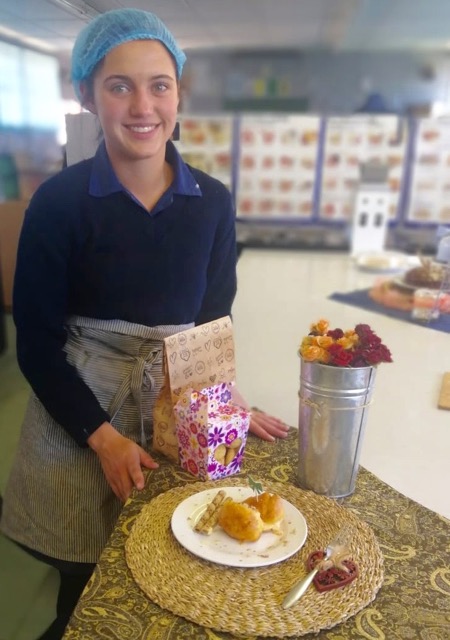 Graad 12 leerders van Mnr. Skiet Geldenhuys besoek
Wesgrow se verpakkingsaanleg.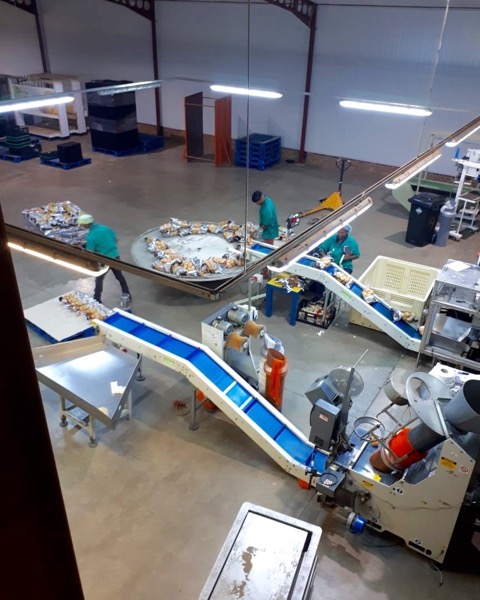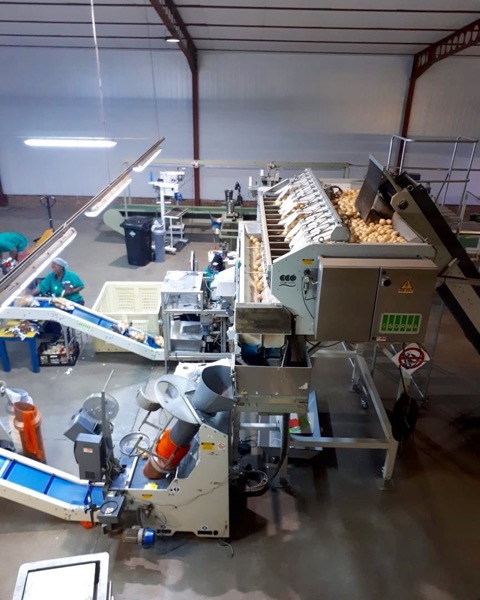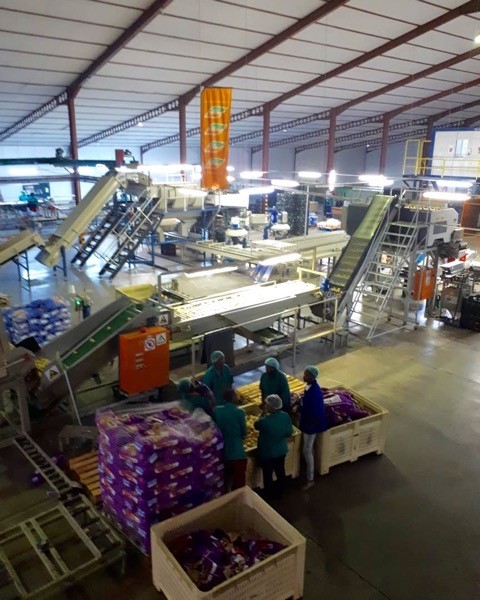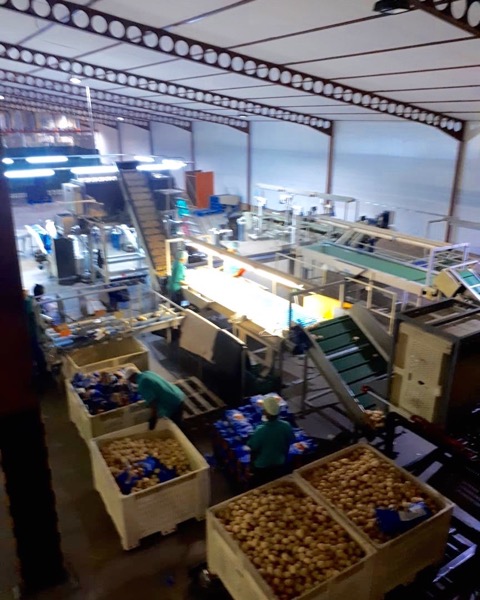 Daarna moes die ware Jakob op die proef gestel word …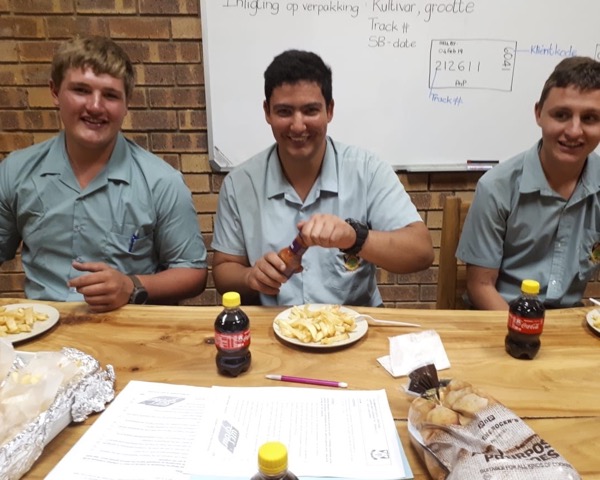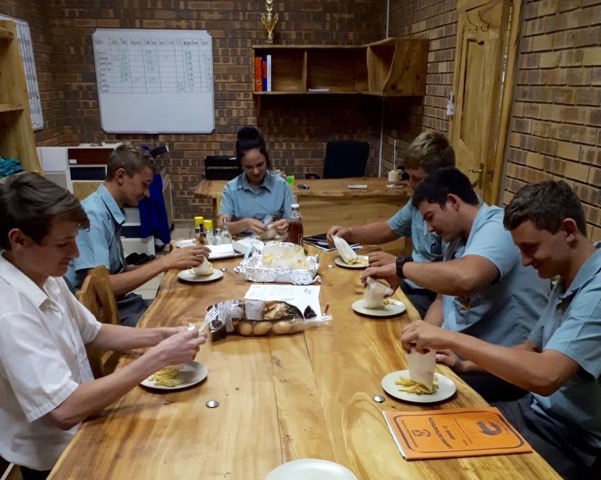 Die tweede kwartaal het weggespring teen die spoed van lig, maar 'n gebrek aan kreatiwiteit in die
Verbruikerstudieklas bestaan glad nie !!! Onder Juffrou Liza Engelbrecht se bekwame leiding het die groep
leerlinge met die interessantste skeppings voorendag gekom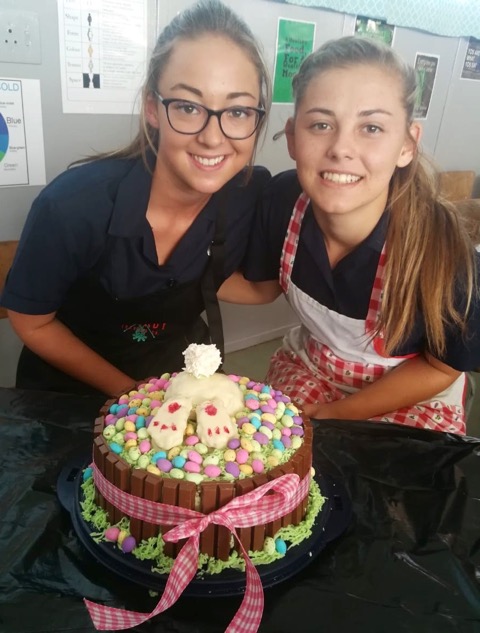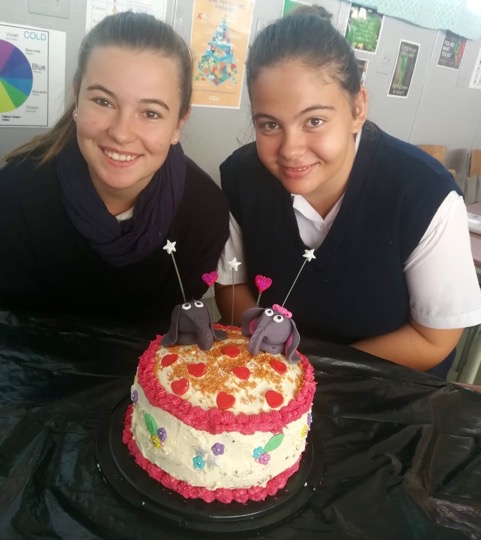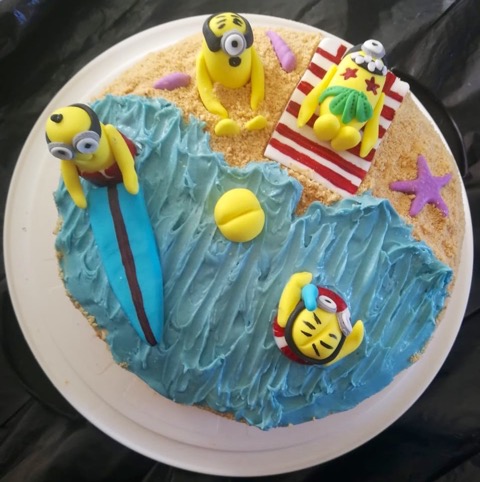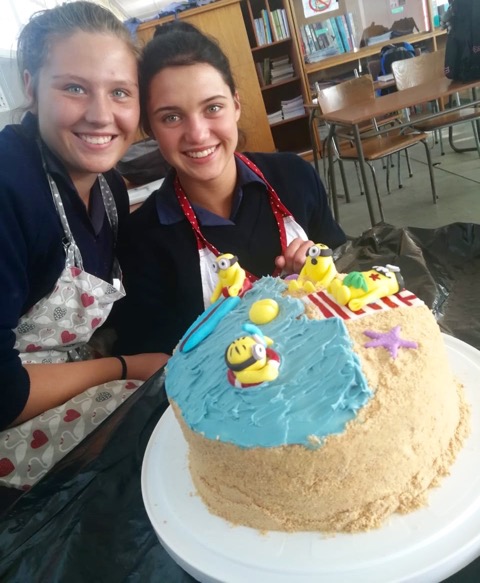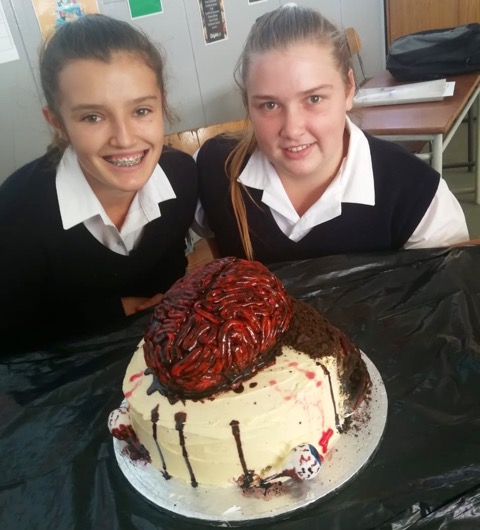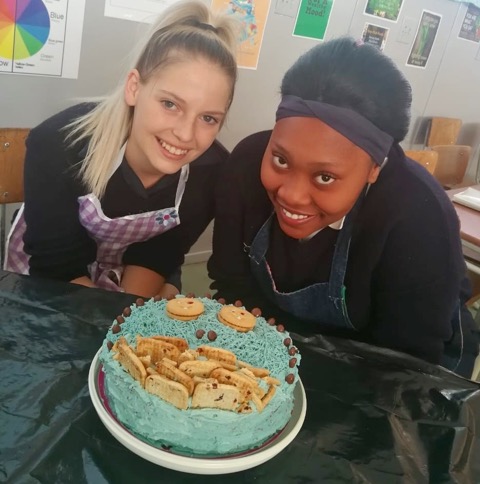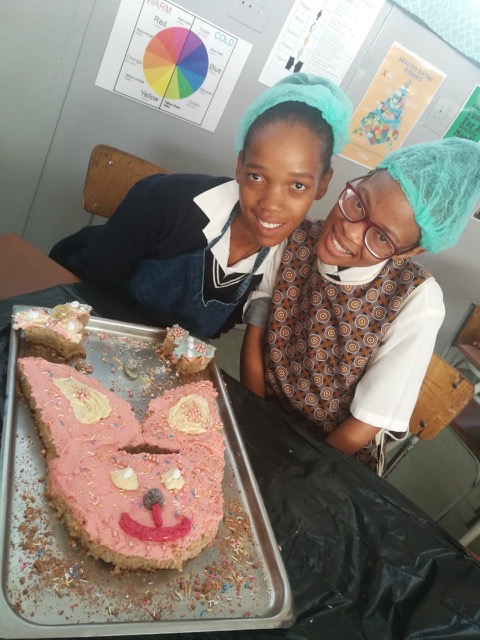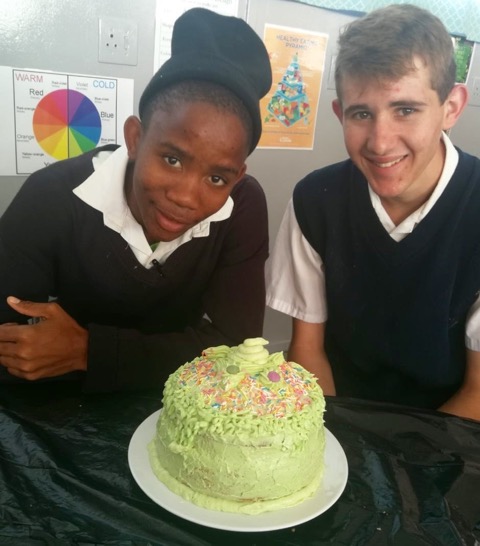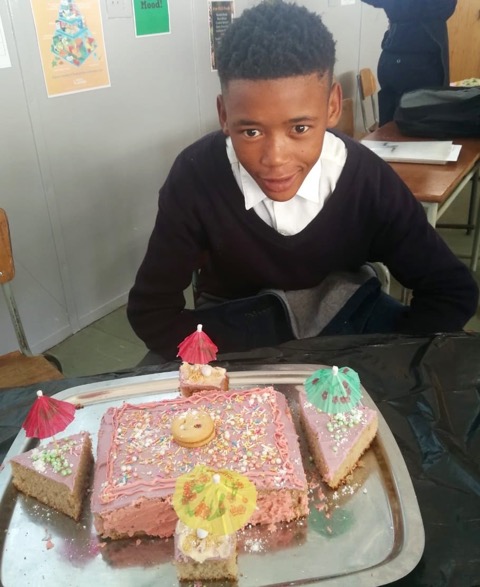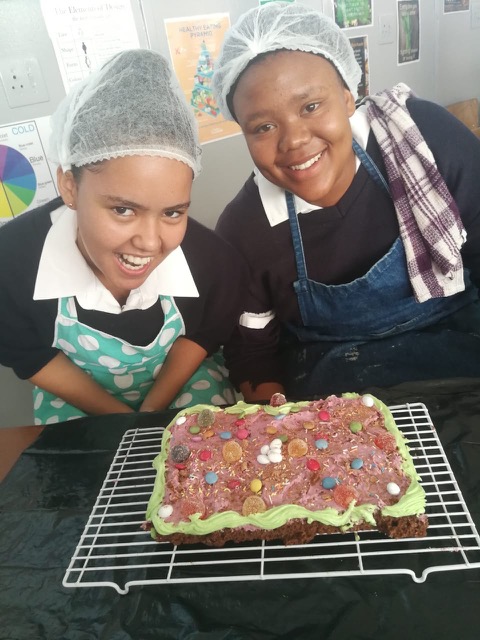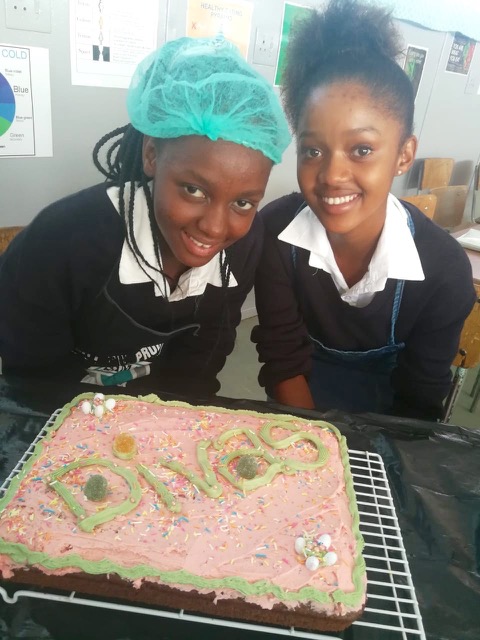 Graad 11 leerlinge (Landbou Bestuurspraktyke) besoek saam met Aartappel- sertifiseringsdienste aartappelplase om landerye te inspekteer en meer oor siektes in die bedryf te leer.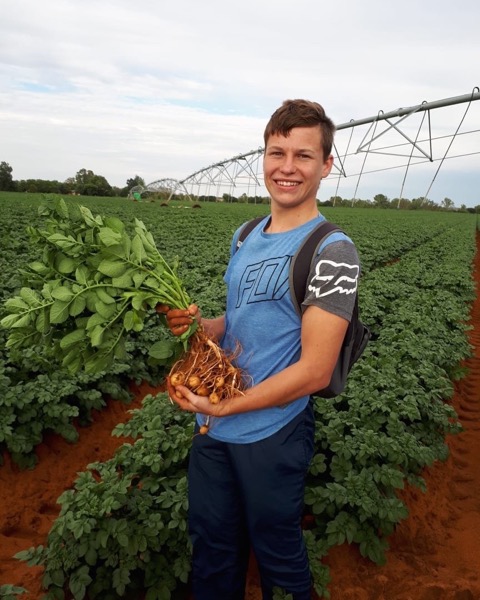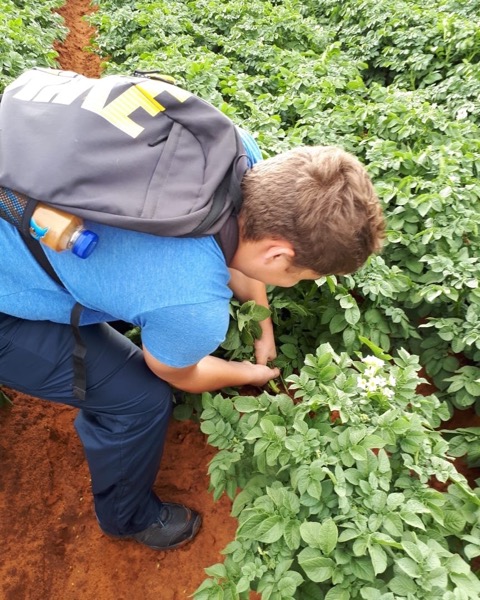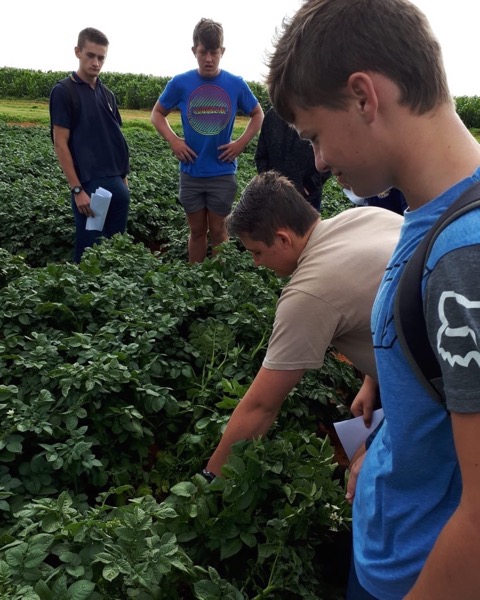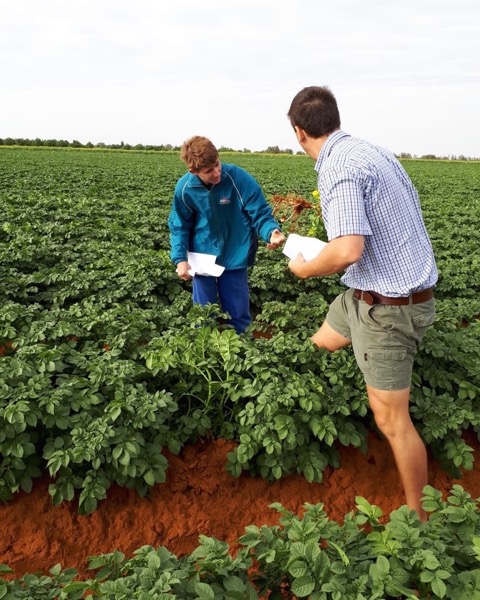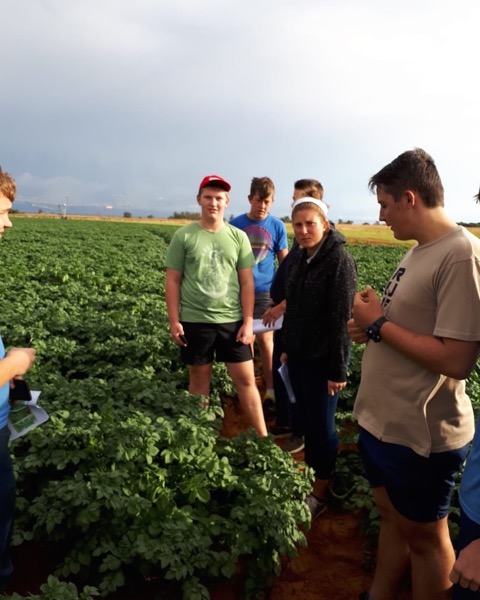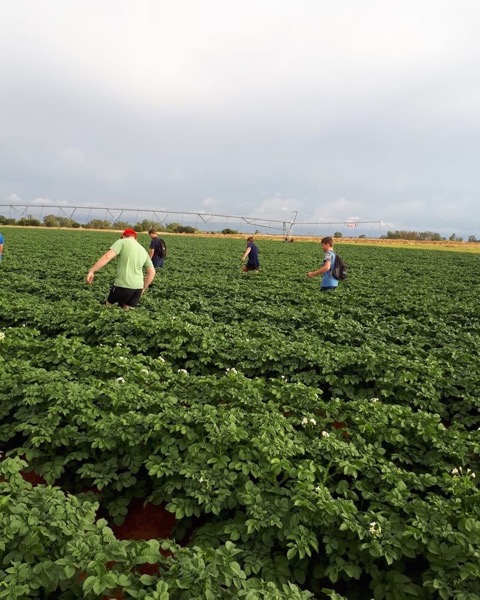 GRAAD 2'S DOEN KUNS !!!
So tussen die akademiese werk deur is daar darem ook tyd om kreatief te verkeer. In die Graad 2 klasse van Juffrou Bonita Avenant en Juffrou Anna-Lize Coetzer, is leerlinge aangemoedig om dieper na ons onderwater skatkis te kyk … Tydens pouses kon almal hulle handewerk besigtig.