In die graad 4 kunsklas is daar sommer hope pret ! In Juf. Susan Botes se klas moes ons 'n voerder
vir voëls maak of 'n "bewertjie" wat in die wind kan rondwaai !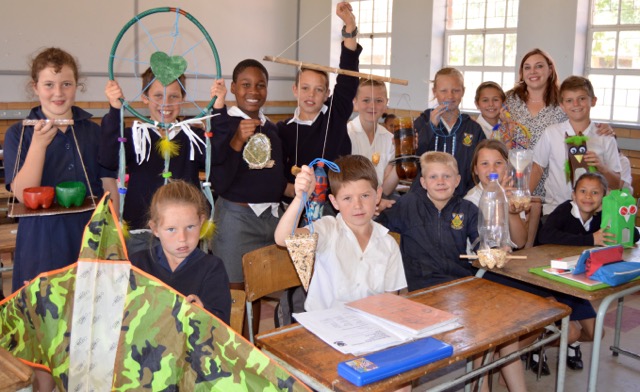 Al die aksie lyk my vind in graad 4 plaas … In Juf. Jeannie Viviers se klas moes ons alles omtrent
vuurpyle uitvind ! Daarna
moes ons, ons eie model vuurpyle ontwerp en bou.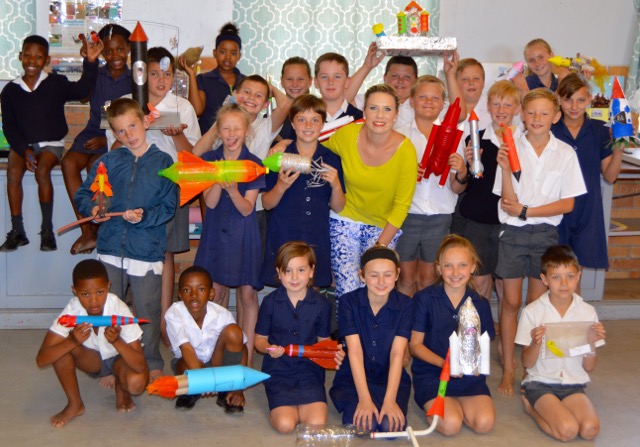 Sir Richard Branson kan gerus hier kom wenke kry vir sy maanreise waaraan hy werk. Of dalk 'n paar
leerlinge indiens
neem om te help met die bou van van sy "maantuie".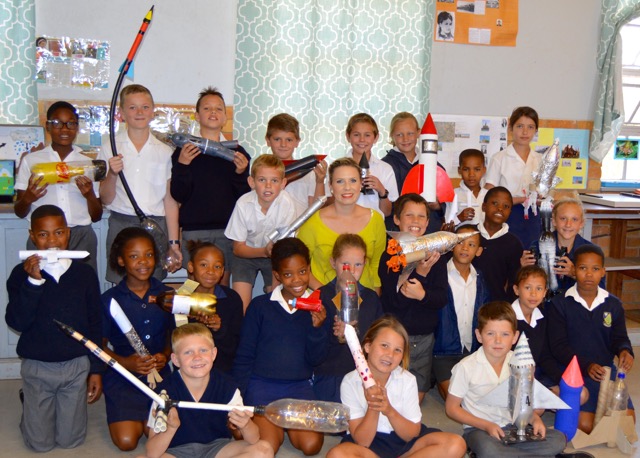 'n Groep Graad 11-leerlinge van Juf. Lisa het hul beste voetjie voorgesit met hul praktiese eksamen.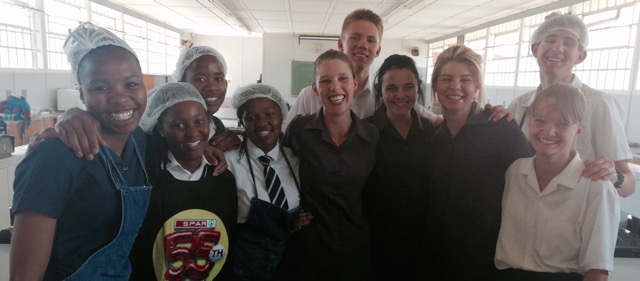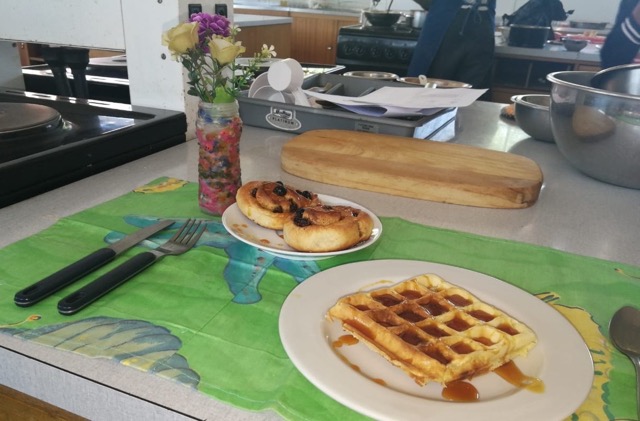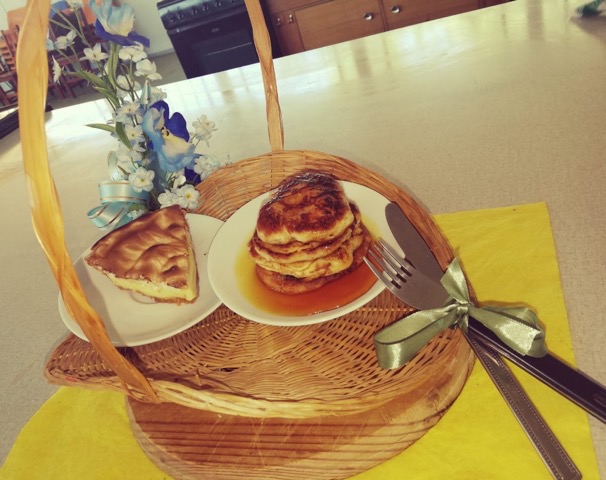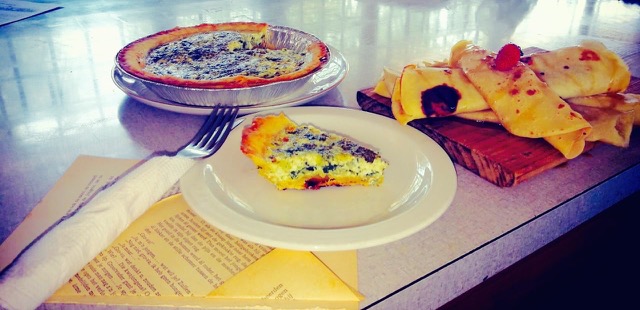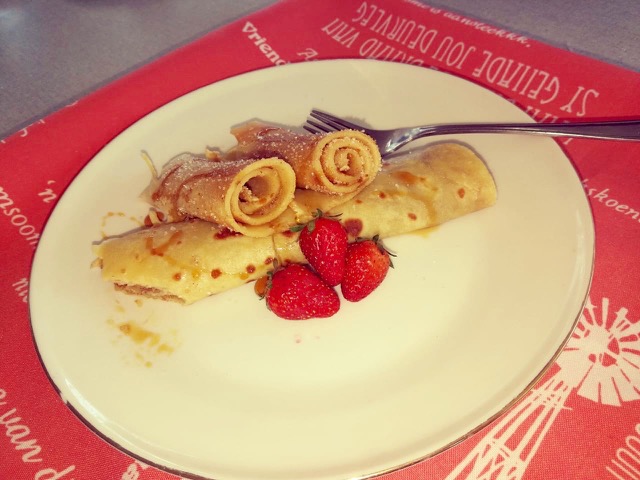 GRAAD 7 HOU ENTREPRENEURSDAG !!!
Op 6 September kon mens nie met die graad 7's huis hou nie … Die rede - hulle kon dit wat hulle geleer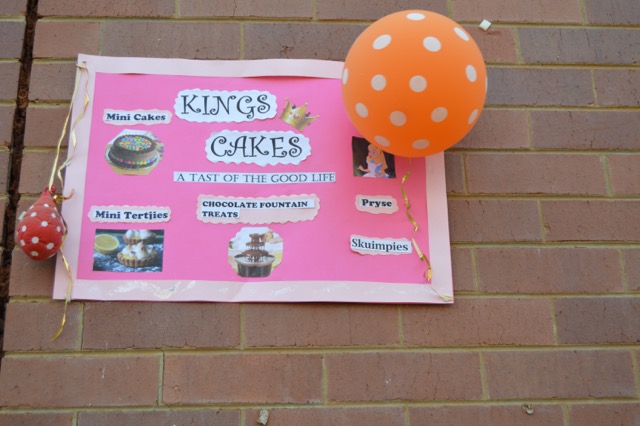 Leerlinge moes hulle eie advertensies maak om leerlinge (kopers) voor te berei wat te koop aangebied gaan word !
Finansies was die dag die belangrikste ! 'n Goeie besigheidsman /-vrou moet
mos geld maak ! Die geldtrommeltjies het behoorlik gebult ...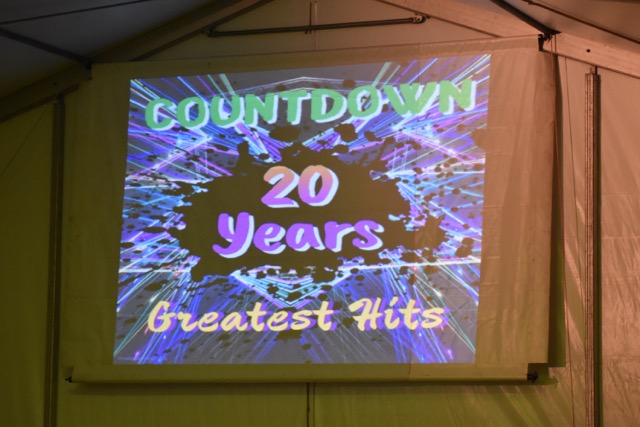 Maats het saamgespan en tafels het gekreun van oorspronklike selfgemaakte lekkertes !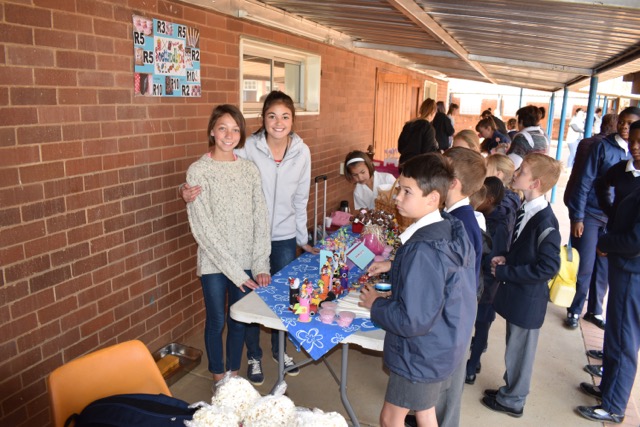 Die onderwysers het ook kom ondersteun !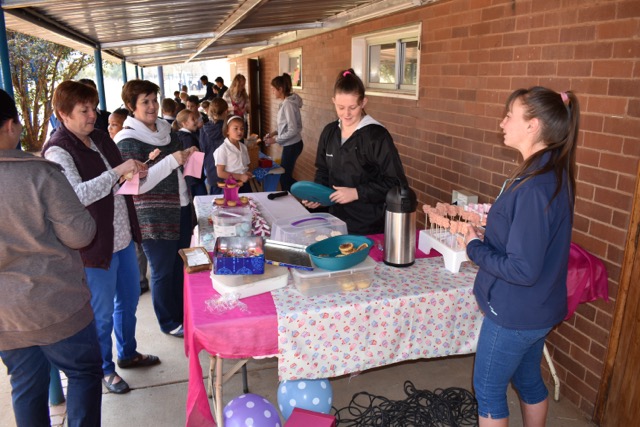 Dit het kophou gekos om al die berekeninge te doen !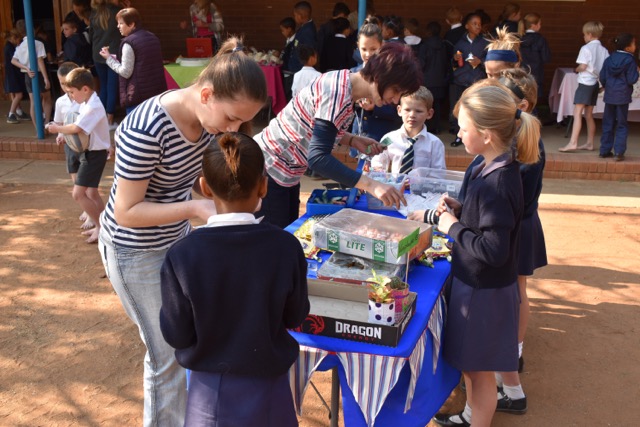 Alles was daar. Jy kon net kies !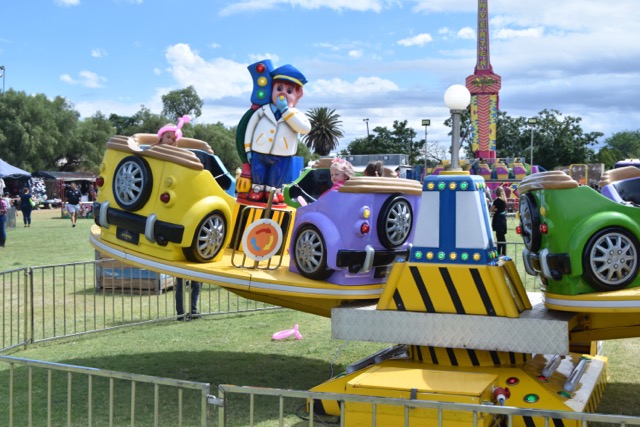 Geen moeite is ontsien nie - inspuitings en "pille" … ? Net jammer ek het nie "soetmaak pille" gesien nie !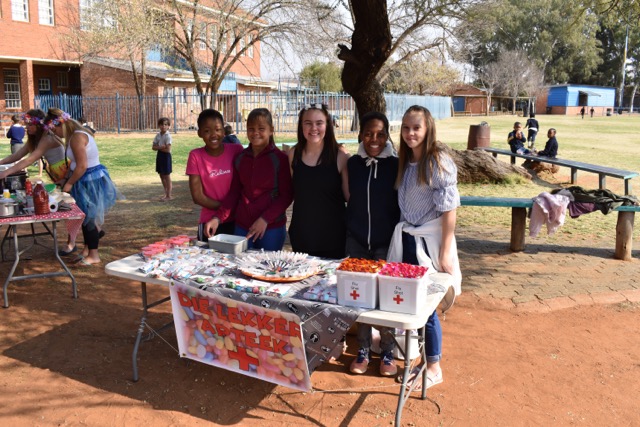 Daar is tot kussinggeveg gehou.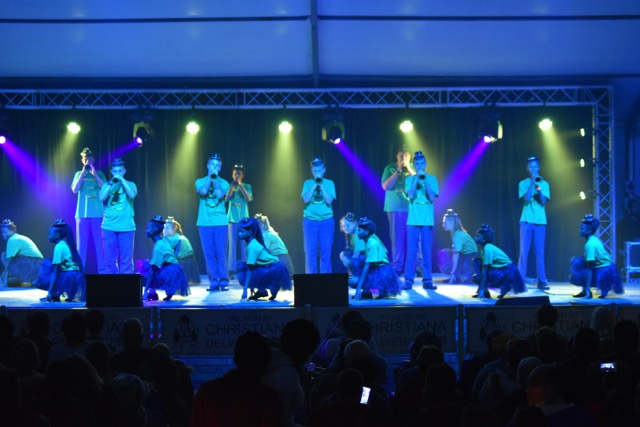 Die kussinggeveg het selfs ons groter leerlinge getrek …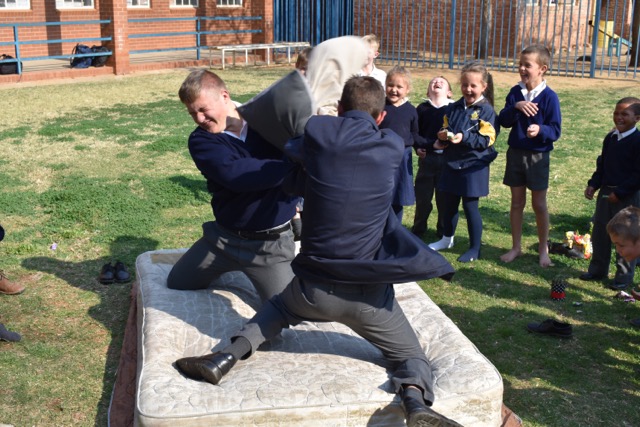 Afrikaanse Olimpiade (ATKV)
Ons junior groep is hard aan die werk tydens vanjaar se olimpiade in Afrikaans
wat jaarliks deur die ATKV aangebied word.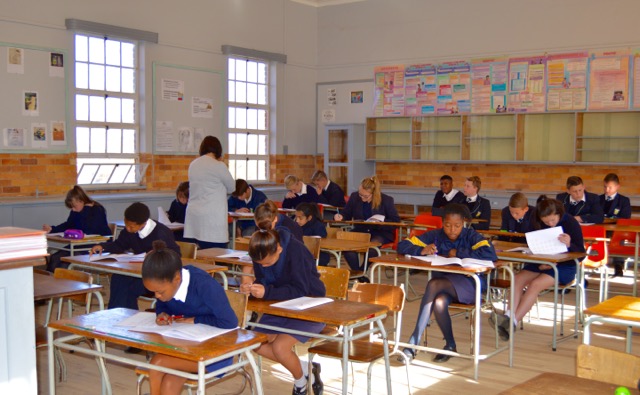 Juffrou Alet Kemp hou toesig sodat leerlinge net hul heel beste kan lewer.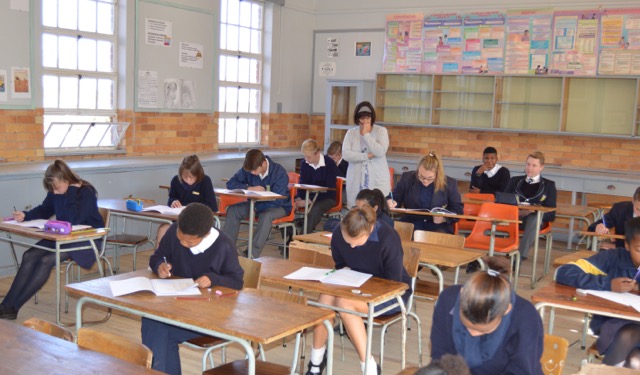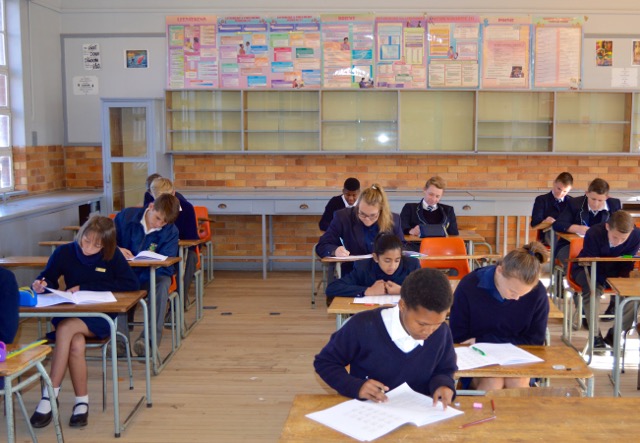 Sterkte maats, ons hou duimvas.
GRAAD 1-DAG !!!
Op Vrydag 17 Augustus 2018 was dit 'n ope dag vir die Graad 1's
van 2019. Die Skoolhoof, meneer Paul Bester en Mevv. Elize
Jordaan en Annelene Badenhorst, die graad 1 onderwysers,
het die nuwe maats ingelig wat Gekombineerde Skool
Christiana hulle alles kan bied.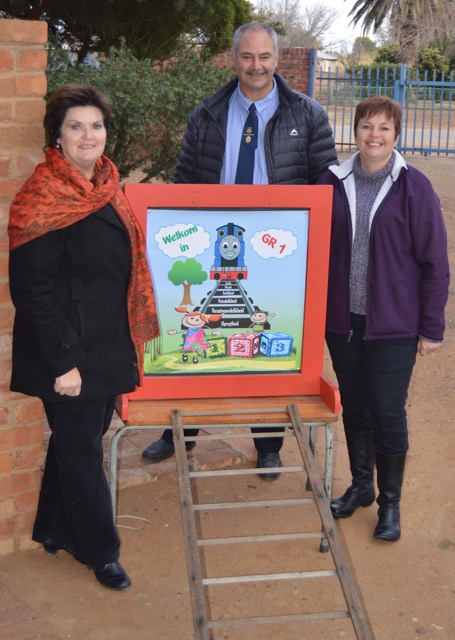 Skaam-skaam en effe sku, het ouers en kinders opgedaag by Lapa wat omskep
is in 'n fantasie wêreld ...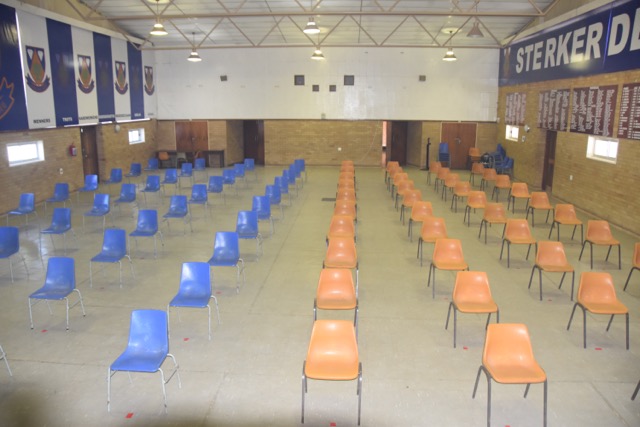 Van die laerafdeling se VLR-leerlinge het die maats ontvang en aan elkeen 'n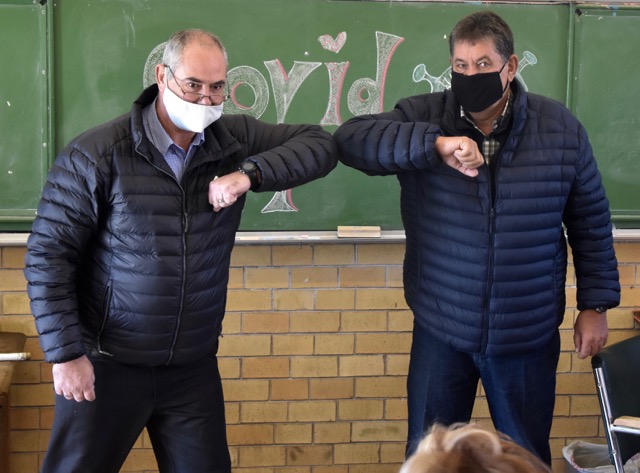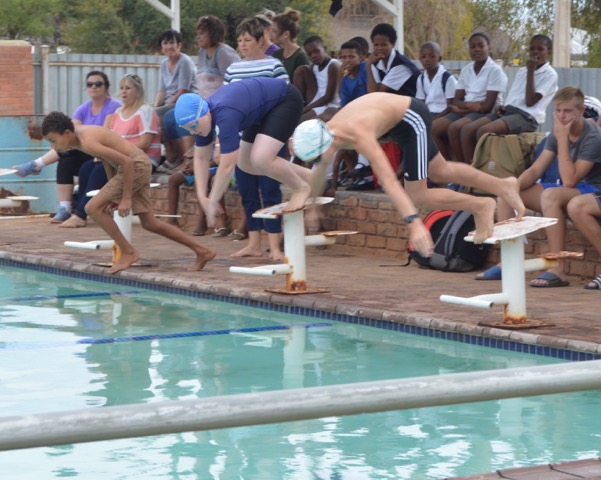 Die ouers is ingelig oor wat die skool aanbied en wat hulle te wagte kan wees as
leerlinge ingeskryf word vir 2019. Daarna kon ouers verversings geniet en die
onderwyseresse van nader leer ken.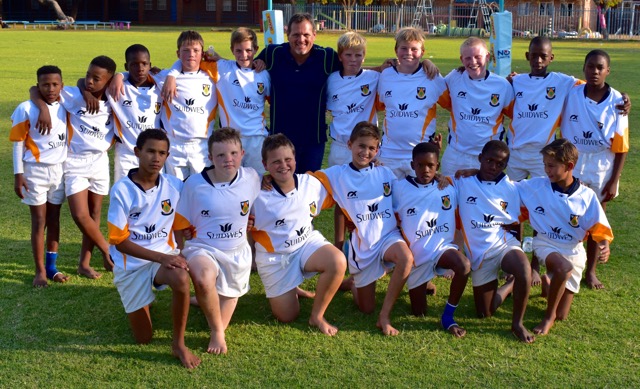 Die maats kon by die "Weduwee se skoen" kuier of hulle nuwe klasse besoek.
Die elwe was baie ingenome om die maats na die klaskamers te vergesel.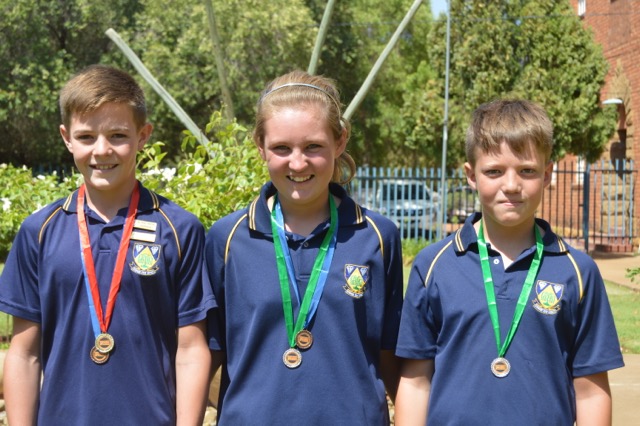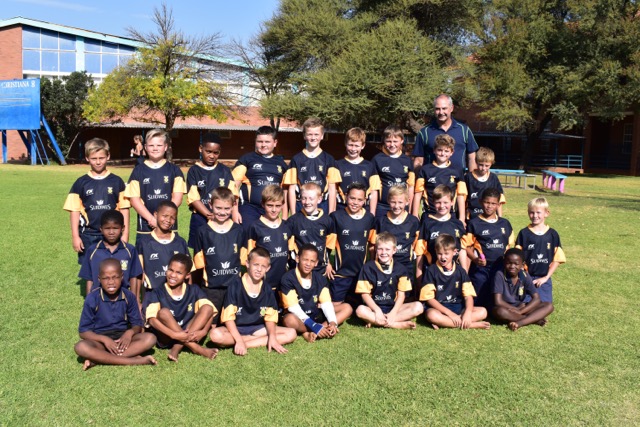 In die klaskamer kon daar na video's gekyk word en mamma en pappa kon
sien hoe lyk 'n graad 1 klas.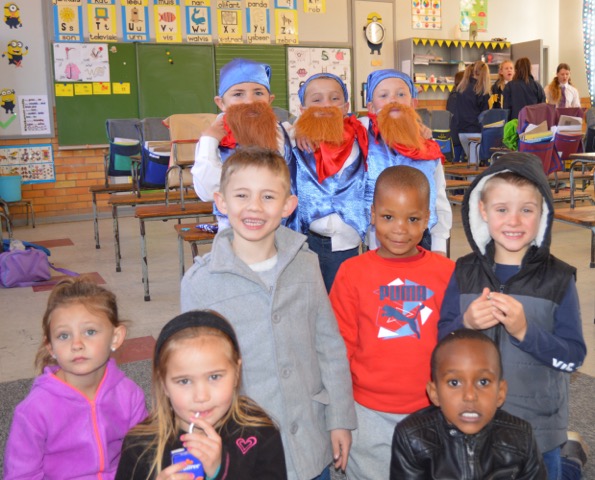 Nuwe vriende is sommer op die "eerste dag" gemaak en die maats sal sommer
gou tuis en op hulle gemak voel wanneer hulle volgende jaar hul nuwe reis begin.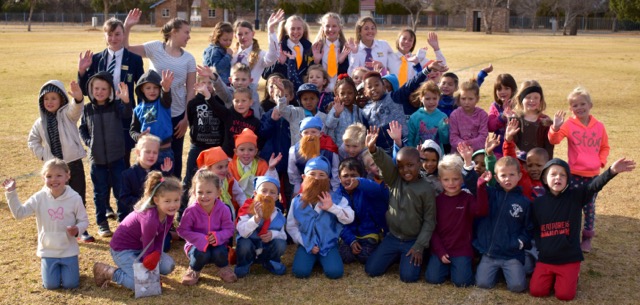 Ons hele lewe is 'n reis ! Ons nuwe graad 1's begin 2019 met hul reis van 12 jaar !
In die 12 jaar word hulle gevorm van klein onseker, bang maats, tot volwaardige
landsburgers met selfvertroue gereed om die grootmense lewe aan te pak. Hier
sal hul leer van Liefde, Respek, Eerlikheid, Vriendelik en om Opregte mens mense
te wees. Sien julle in 2019 !!!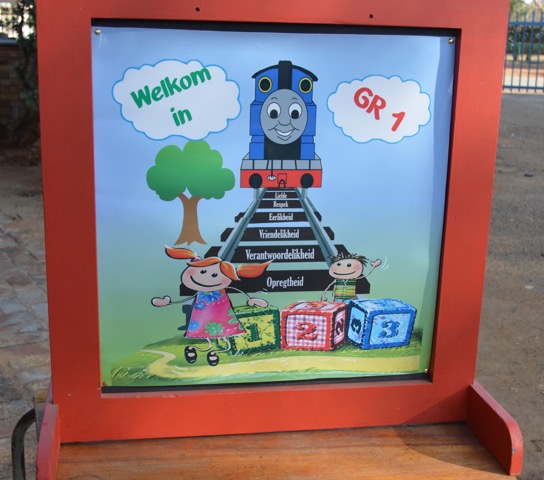 a
Gedink daar word nie hard gewerk in eksamentyd nie - dink weer ! Juffrou Lisa saam met 'n paar
leerlinge wat prakties moes doen vir die eksamen.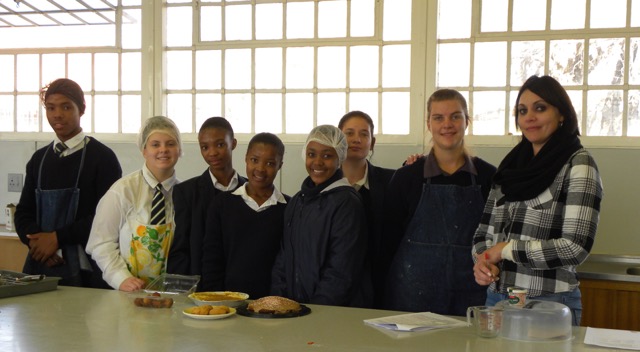 Kyk net hoe oorspronklik was ons !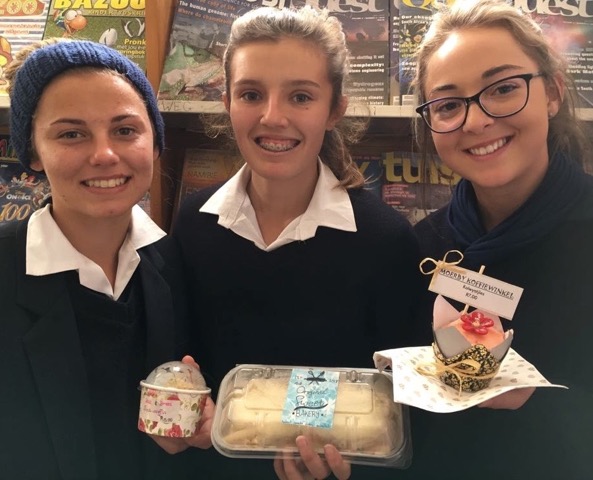 In die saal was dit koppe neer en werk, werk en werk !!!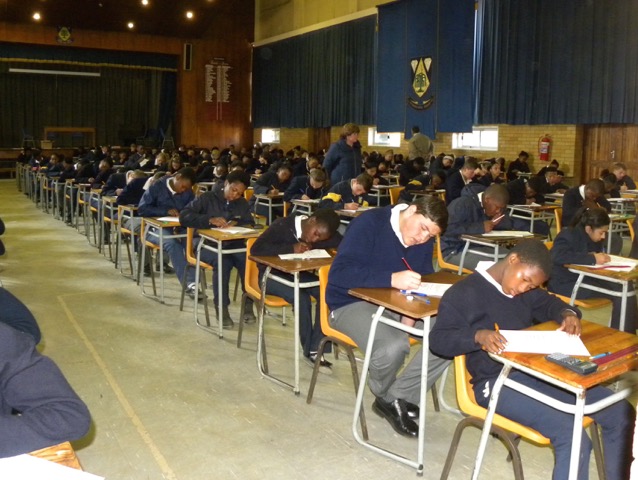 Meneer Hardus hou ons met 'n valkoog dop.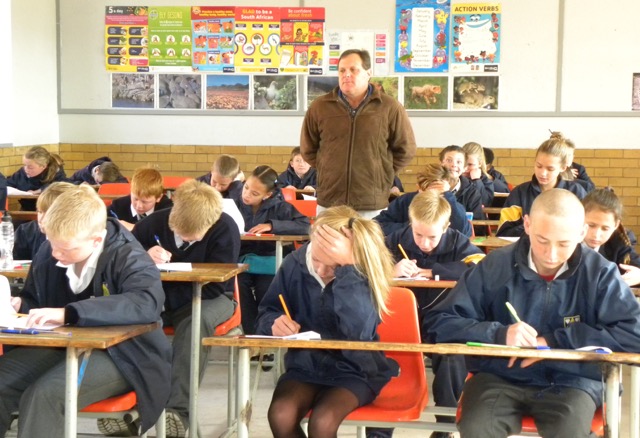 Die Matrieks hard aan die werk onder toesig van Juffrou Lois.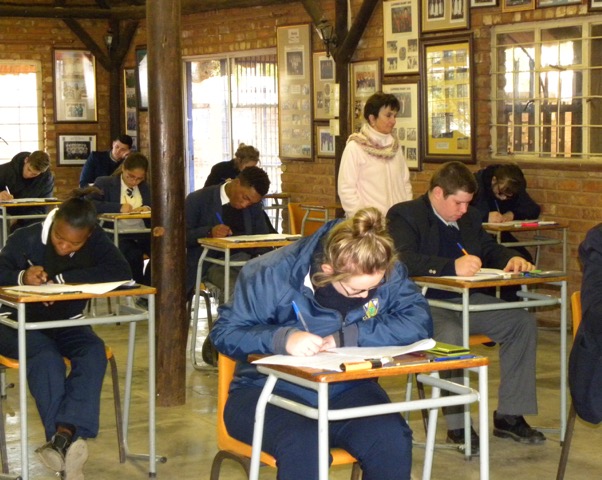 En raai wie werk die hardste … al die antwoordstelle moet gemerk en gekontroleer word !!! Geniet 'n welkome ruskansie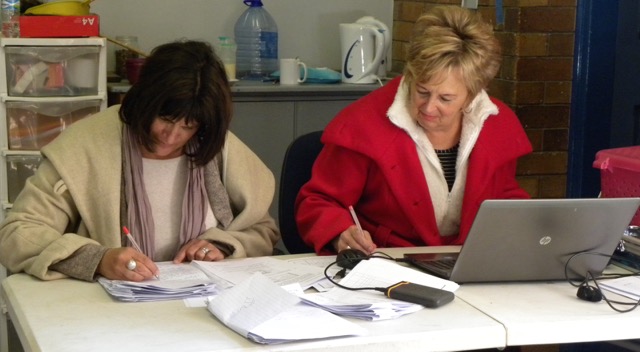 VOORGESKREWE WERK: ONDERWERELD EN MIS
Onder die bekwame leiding van Juf. Olevano, het ons leerders weer die geleentheid gekry om 'n opvoering oor hulle voorgeskrewe
boek op ons voorstoep by te woon. André Stolz - Produksies met sy vele bekende akteurs en aktrises het ons weer met nuwe oë na
ons voorgeskrewe werk laat kyk.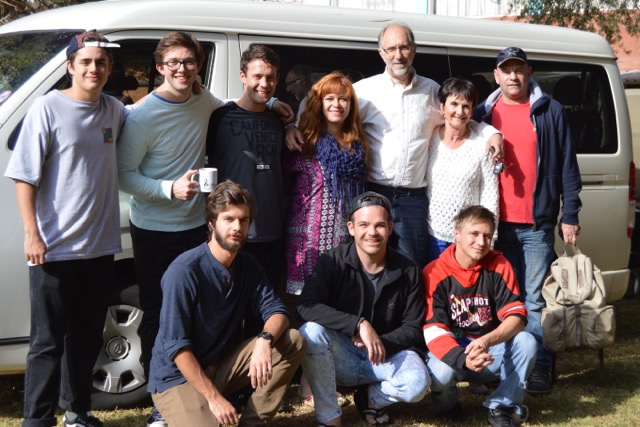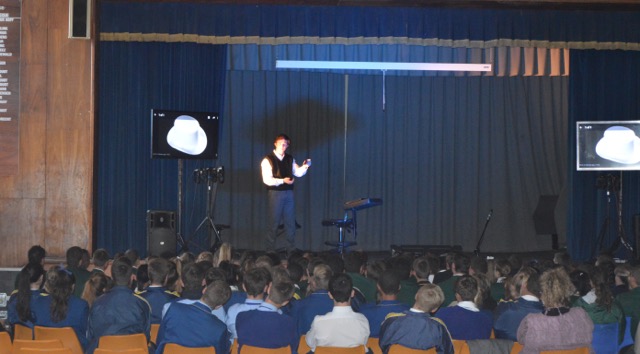 Mm… nog 'n paar bekende gesigte.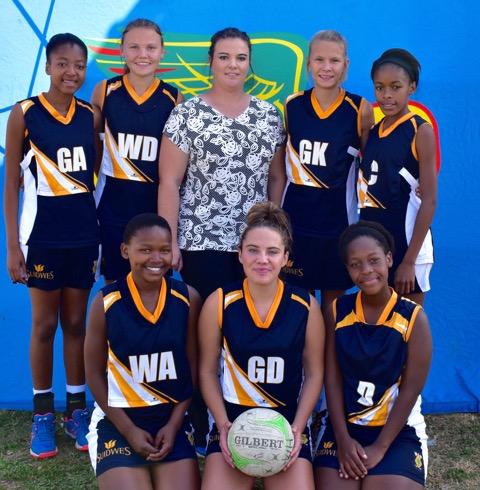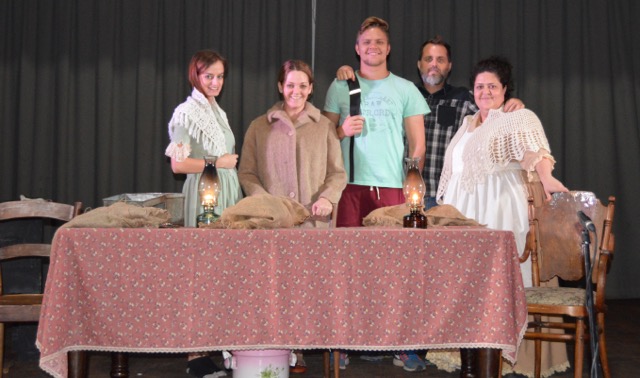 Die Gr.4's moes instrument maak by Juf. Elbie. Daar was glad nie te kort aan planne nie !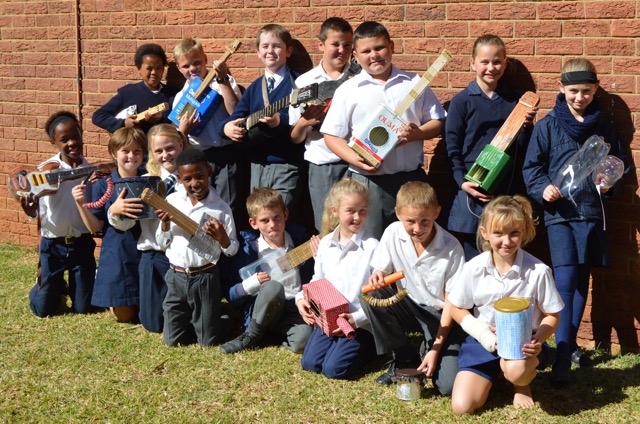 Wat 'n verskeidenheid ! Verbeel ek my of dit Elvis regs op sy geel kitaar ? Die houding is daar.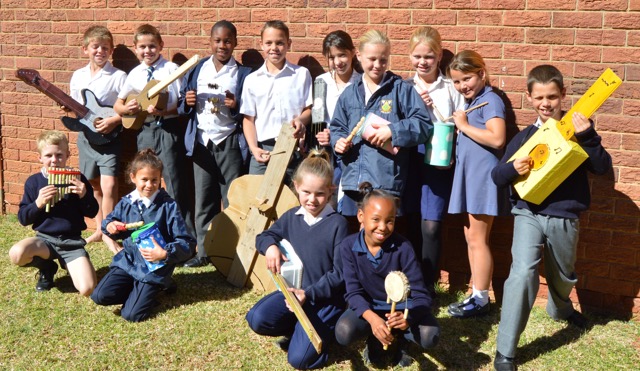 Ons besoek aan NAMPO … Wat 'n opwindende dag was dit nie !!! Gewapen met ons sakboekies,
penne en opdragkaart het ons ons uitstappie aangepak. Vra is aan die kenners gevra en foto's is sorg-
vuldig bymekaar gemaak. Die opdrag was duidelik - daar moet bewyse wees dat julle inligting ingewin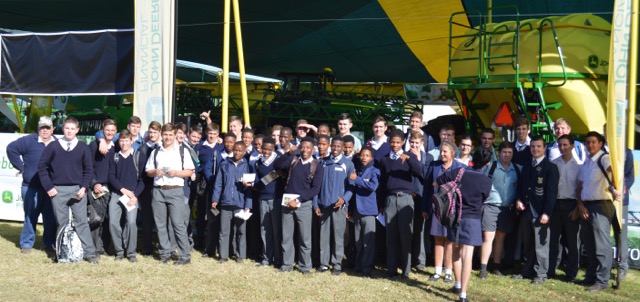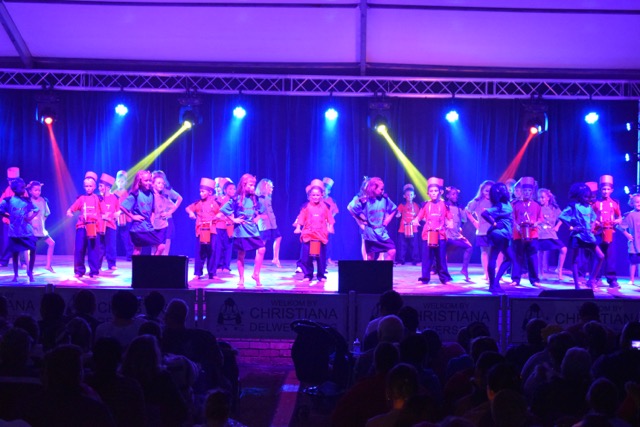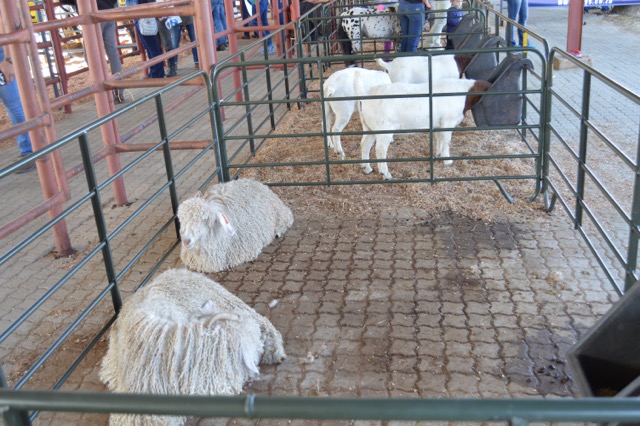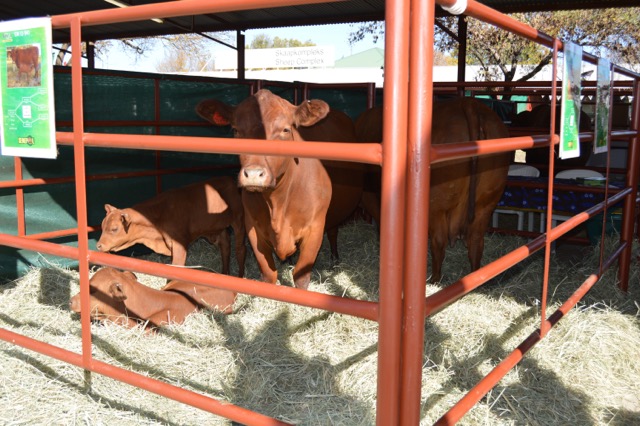 Hoe maak mens 'n besluit as daar so baie is om van uit te kies ? Rooi ...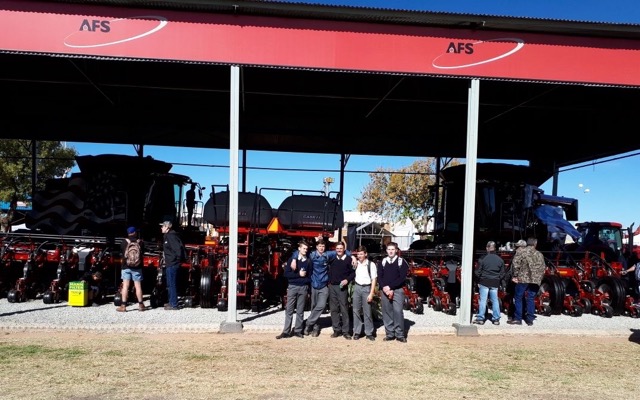 groen … wat is die beste ?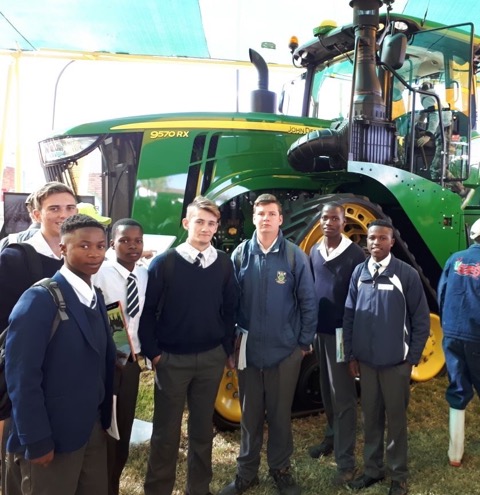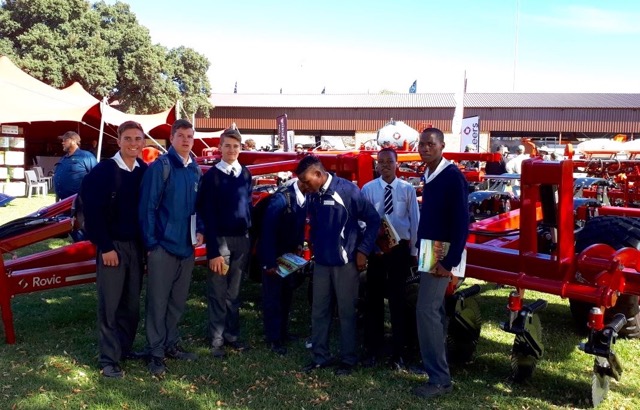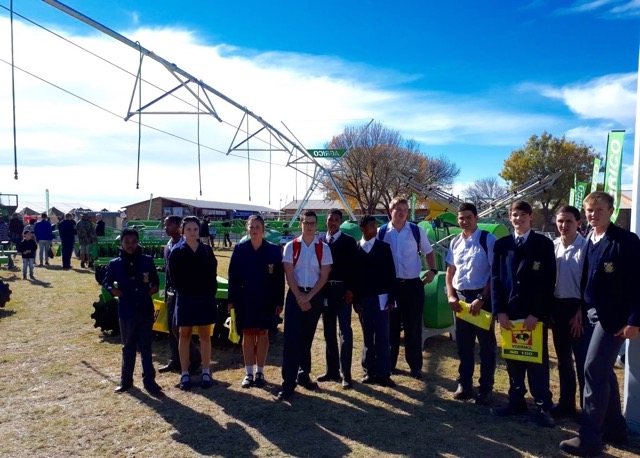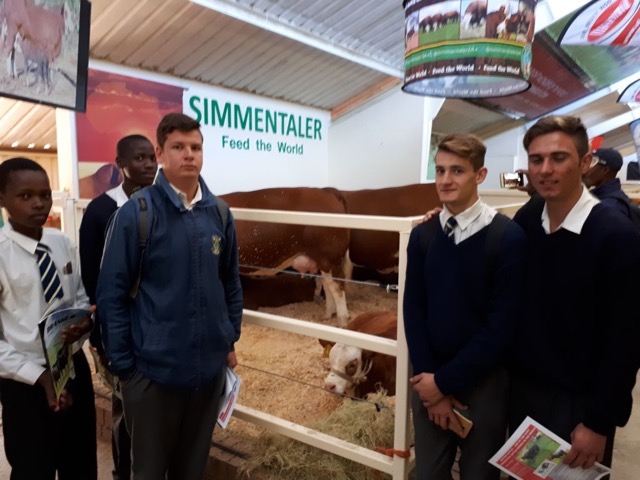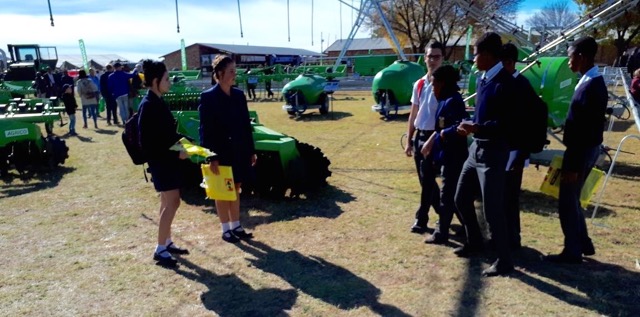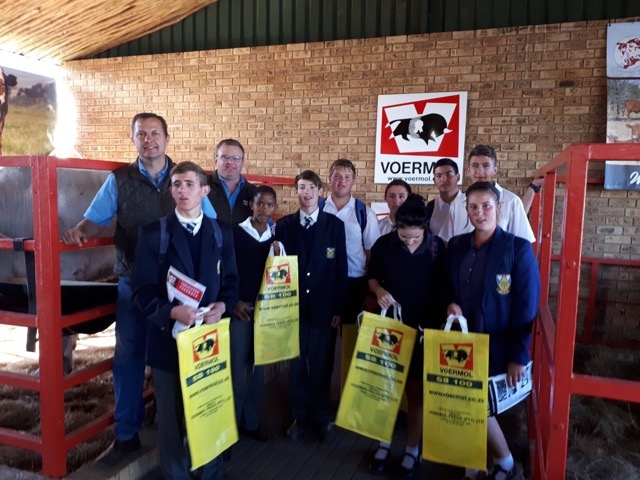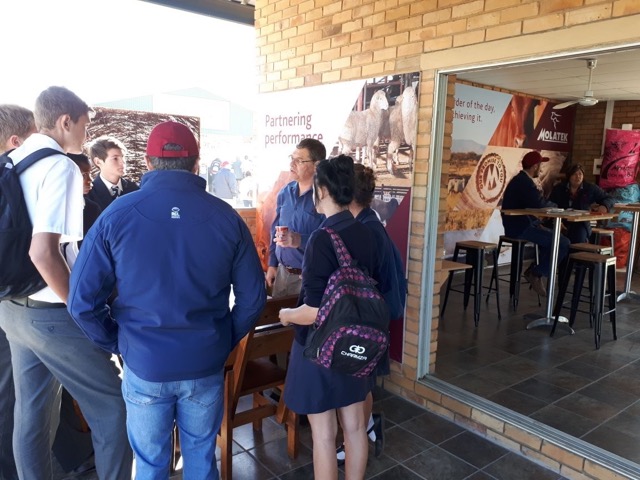 Natuurlik moet die finansies die "praatwerk" doen !!! Voor jy enige besluite kan neem, maak eers 'n paar somme.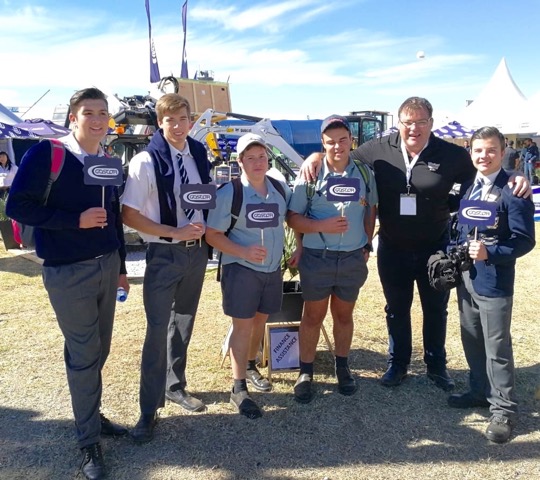 Na 'n dag se BAIE loop, eet en kyk, kon ons darem 'n sitplek kry ! Ons wil net baie dankie se vir die geleentheid om die
Landbouskou te kon bywoon. Ons raad aan ons maats is, begin noual SPAAR !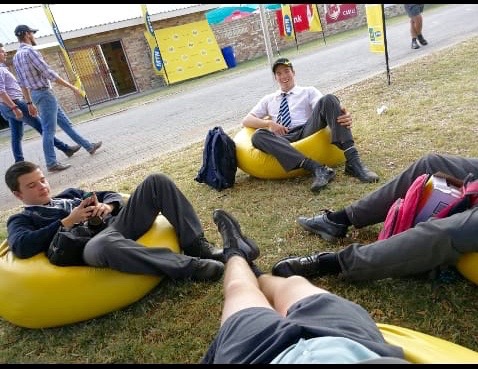 In Juf. Liza se Verbruikerstudie klas moes die Gr. 11's koeke versier volgens 'n tema.
Kan jy raai wat die tema was ? Emoji's ! Die liefde... en is dit dalk die Bulls se nuwe wapen ?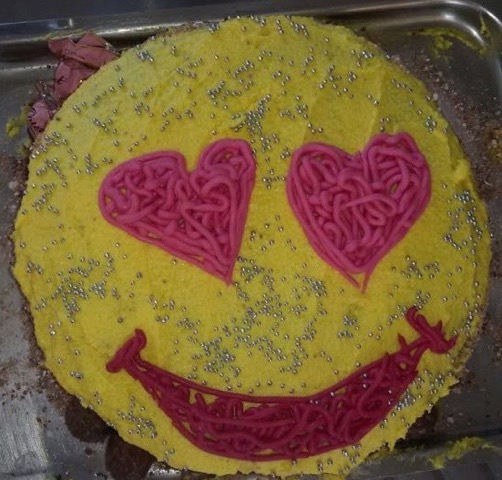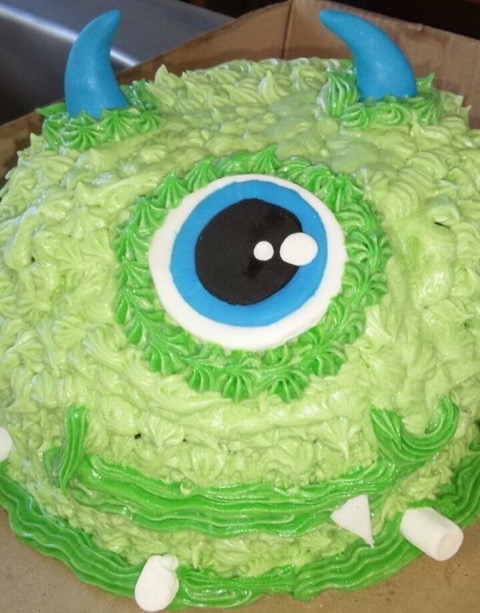 Juffrou Anna-Lize en haar Graad 2 klas is besig om saadjies te saai vir 'n skouspel van kleure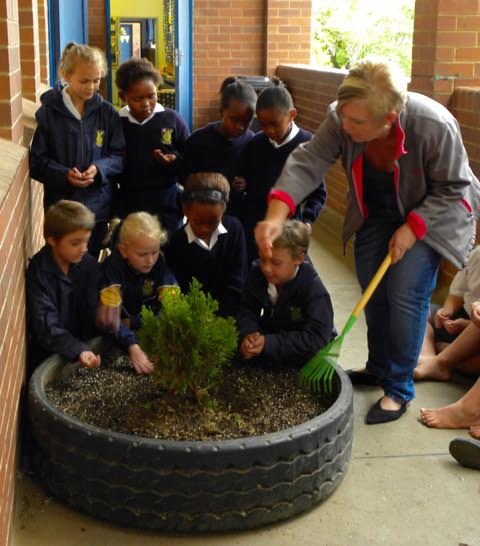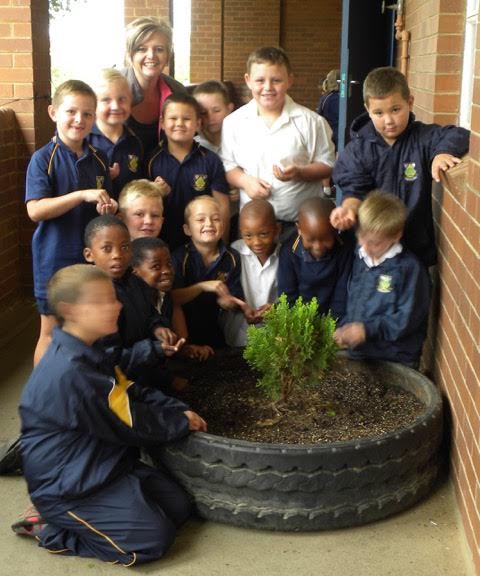 Juffrou Bonita se klas staan ook nie 'n tree terug nie. Hulle wag nou inspanning om die
kleurspel te kan bewonder !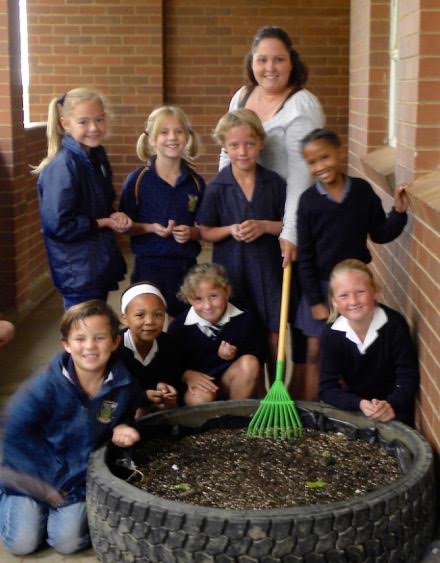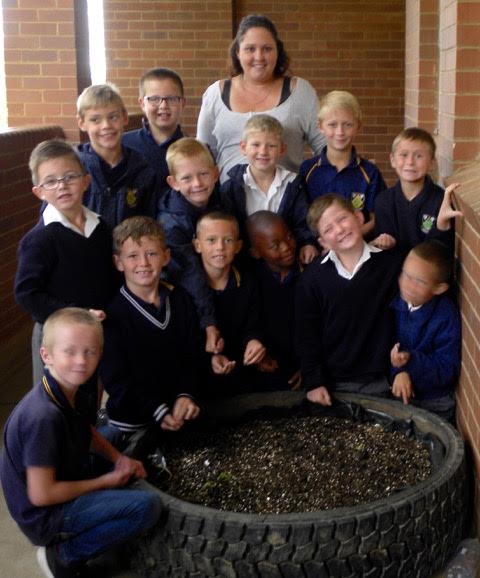 Praat van 'n goeie voorbeeld ! Ons Gr. 12-leerlinge het op die laatste skooldag van die kwartaal 'n ekstra klas bygewoon
om hulle voorgeskrewe werk- "Onderwéreld" deur Fanie Viljoen 'n bekende skrywer- af te rond. Baie dankie Juffrou LoIs vir
al jou ekstra tyd en dryfkrag om ons kinders te motiveer om ons beste te doen !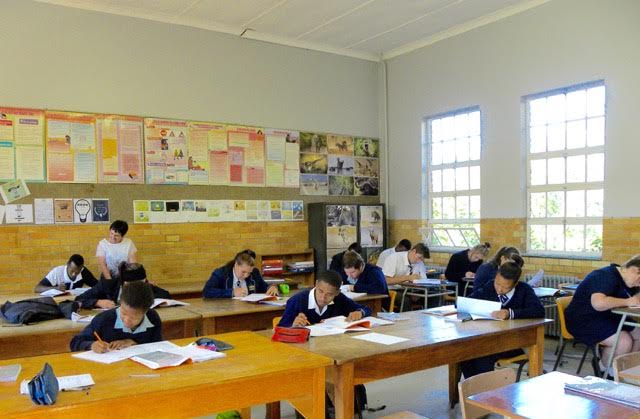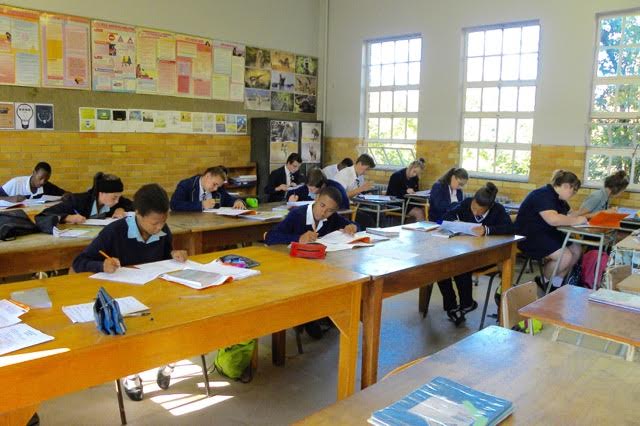 Hard aan die werk !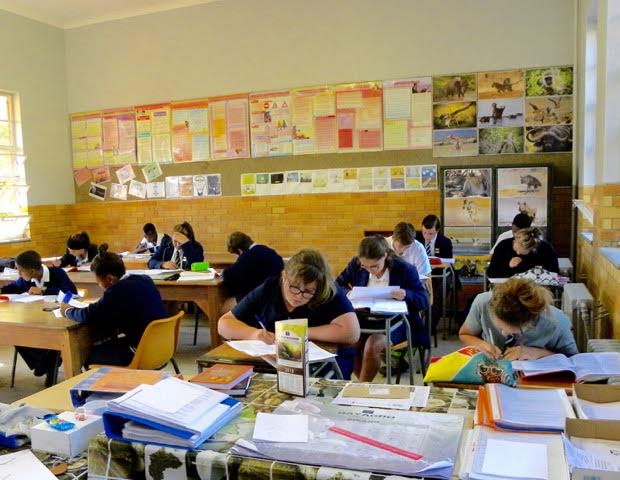 Die Gr.12 Landbou Tegnologie leerlinge van meneer Skiet Geldenhuys het by
WP Ingeneurswerke opleiding ontvang oor hoe om behoorlik te kan sweis.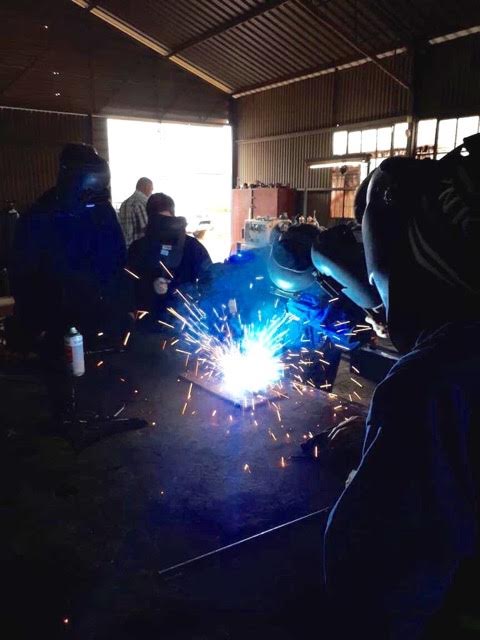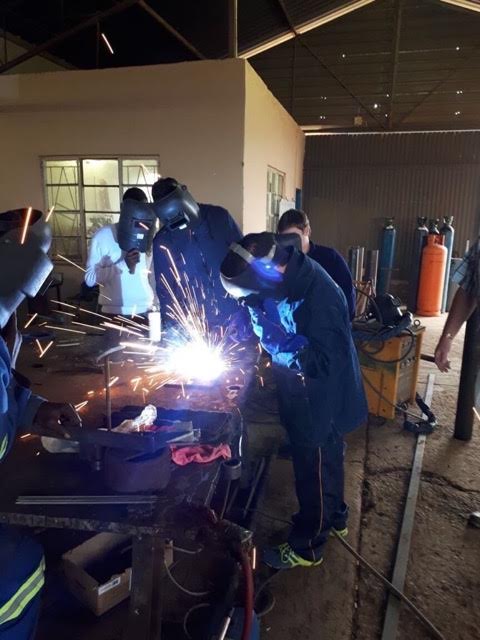 In Juffrou Nannet se Gr. 8-klas het vandag so belangrik gevoel … Ons het met
mikroskope mikro-organisme bestuur !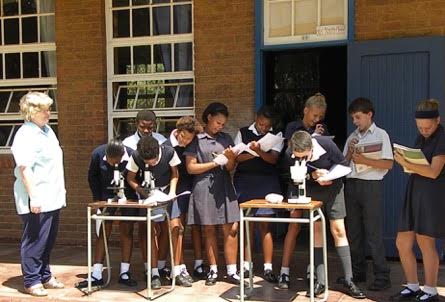 Nooit weer mis ek een van die klasse nie ! Het jy geweet Alexander Fleming wat toevallig 'n
bakkie waarin hy bakterieë laat groei het, uitgevind dat penisillien (antibiotika) daarvan gemaak
kan word ? As mens so na dit kyk …brrr ...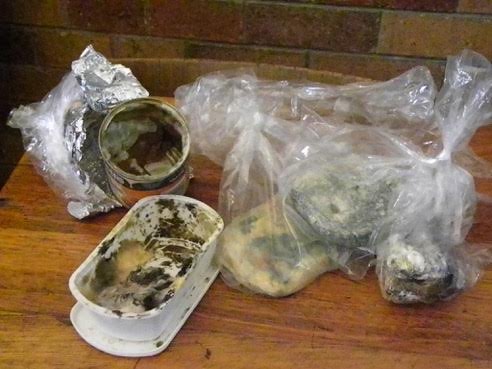 'n Paar van ons kon solank 'n vergrootglas gebruik om die bakterieë te bestudeer.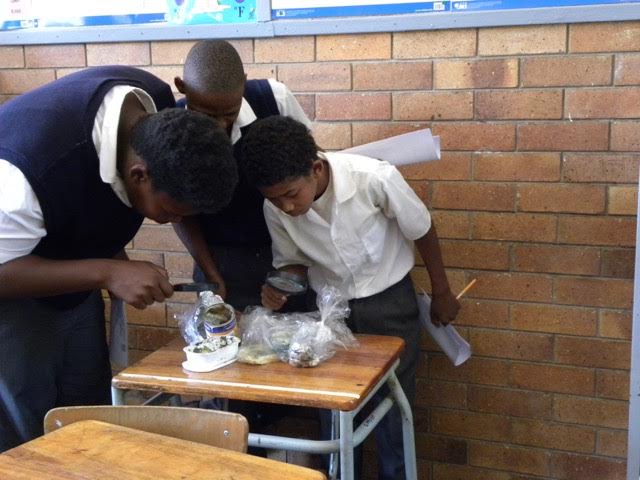 Ek kan net nie ophou KYK nie !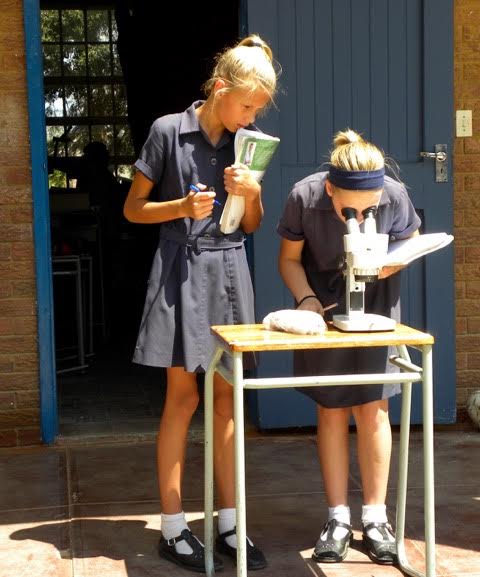 Die Gr.3's van Juf. Rina moes emosies met klei uitgebeeld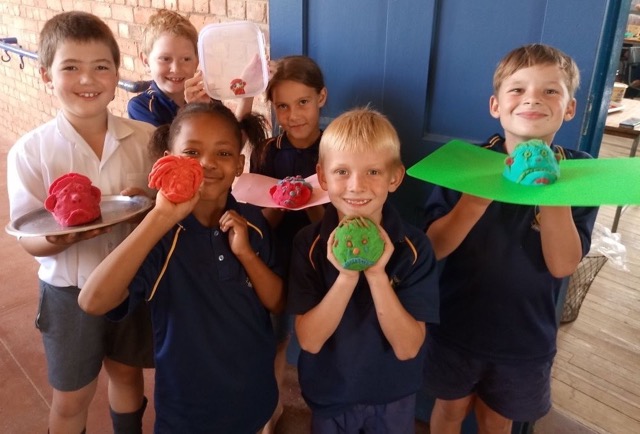 Die Gr.4's het meer oor ons dorp se geskiedenis geleer. Juf. Jeannie het hulle 'n uitstalling laat hou van BAIE ou gebruiksartikels.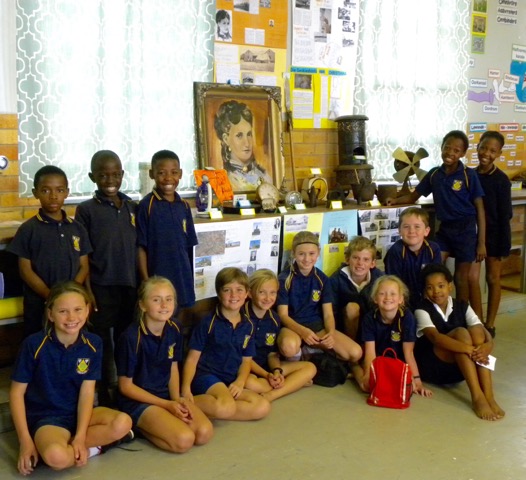 Ons leerlinge het weer deelgeneem aan die jaarlikse Wiskunde Olimpiade.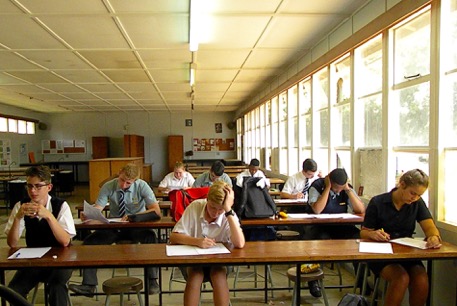 In die Gr. 10 Verbruikerstudieklas van Juffrou Lisa leer ons al die slim paadjies na iemand se hart … skuus … se maag !
Die kolwyntjies kon nie gou genoeg uit die oond kom nie !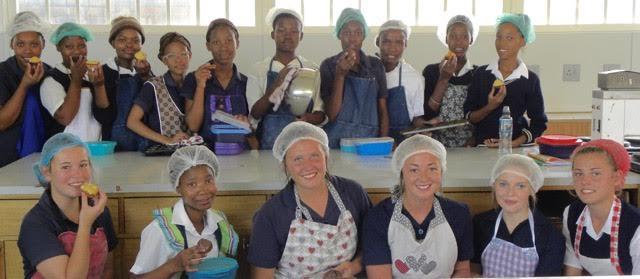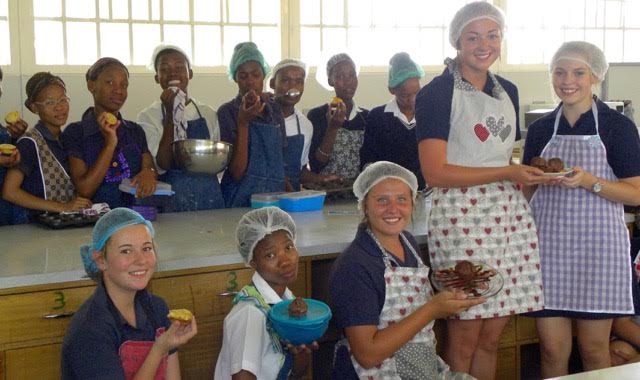 Die Graad 7-groep het meer geleer oor hidrouliese stelsels. Juffrou Elbie het haar hande vol gehad.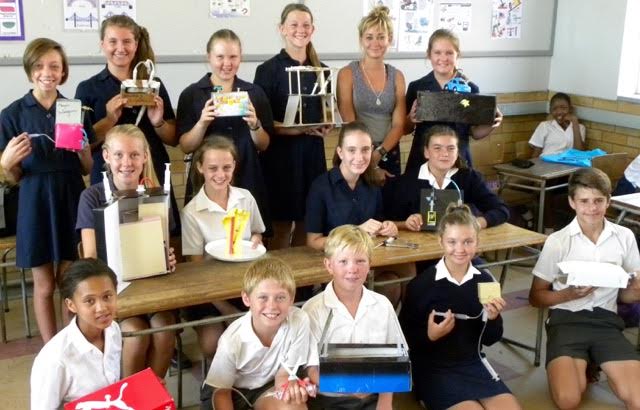 Graad 9-groep: Br?e word nie sommer in 'n dag gebou nie !!! Wel nie stewiges nie. Karton, blik, hout en staal is ingespan.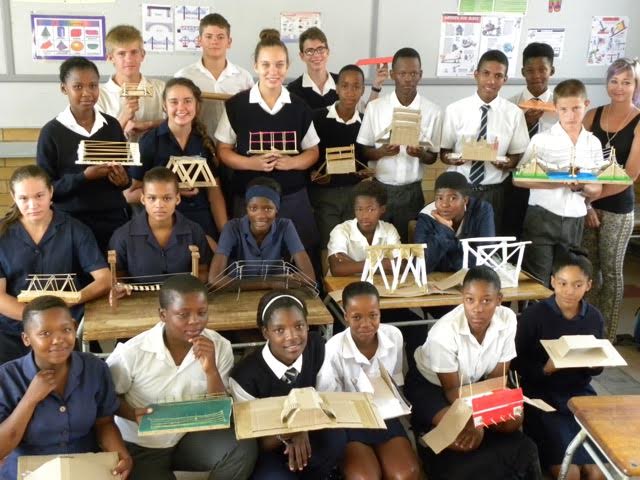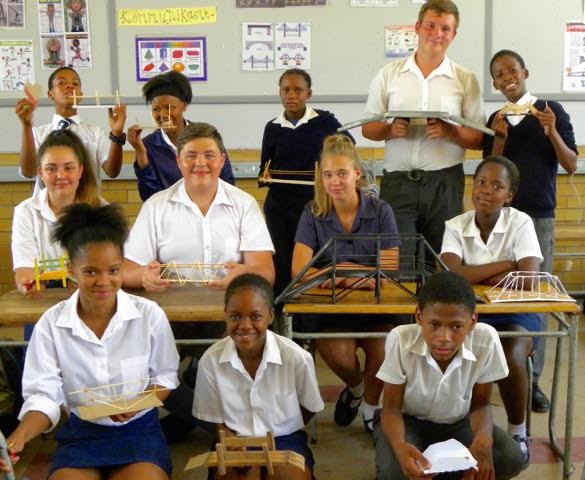 Die Graad 8-groep het in Tegnologie probeer vasstel wat die beste manier sal wees om nuwe pawiljoene
vir die skool te bou. Ons B-rugbyveld kan doen met nog 'n paar.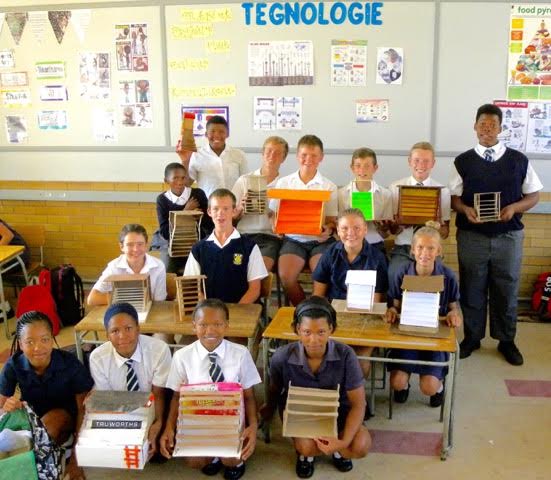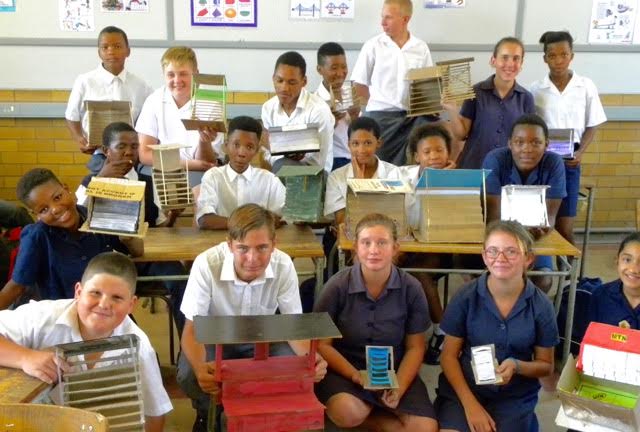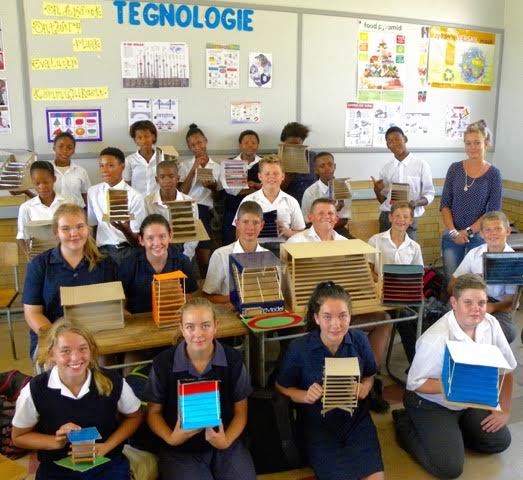 DIE GRAAD 10 LANDBOU BESTUUR PRAKTYK LEERDERS EN MNR SKIET GELDENHUYS
HET RASCAL SEED BESOEK EN DIE GELEENTHEID GEKRY OM SELF AARTAPPELS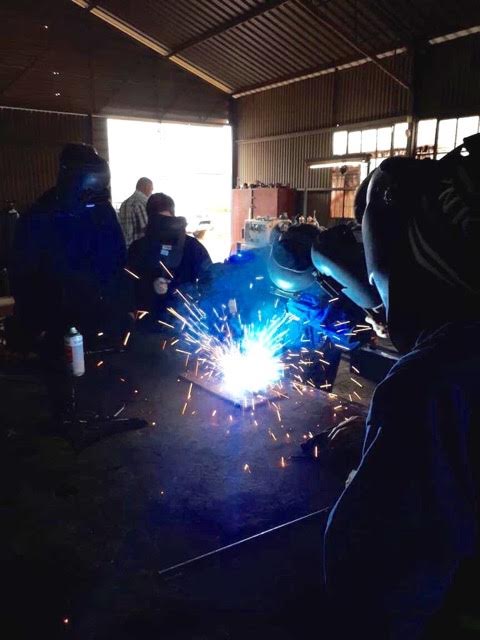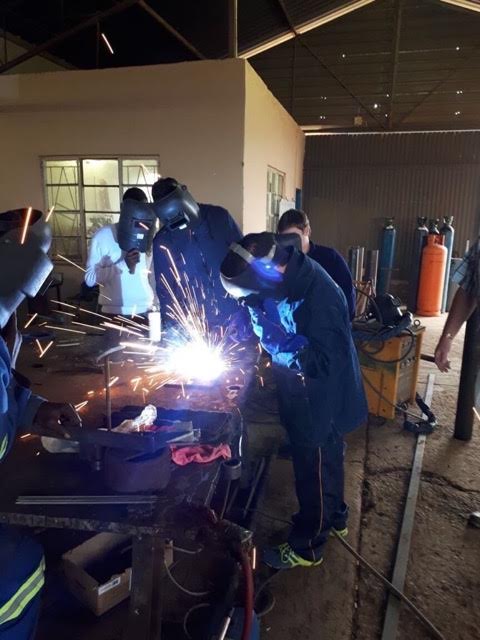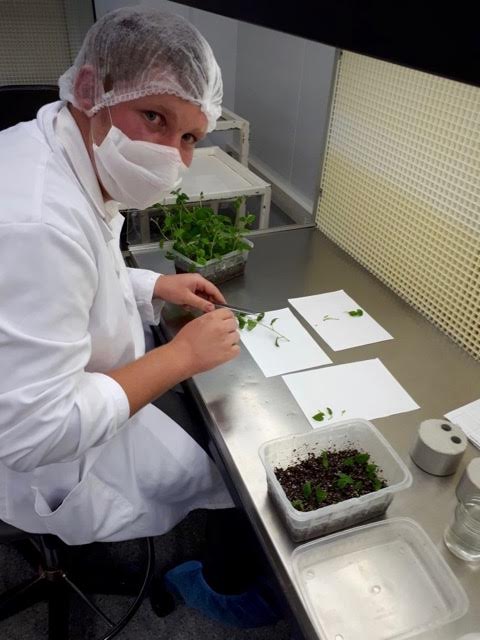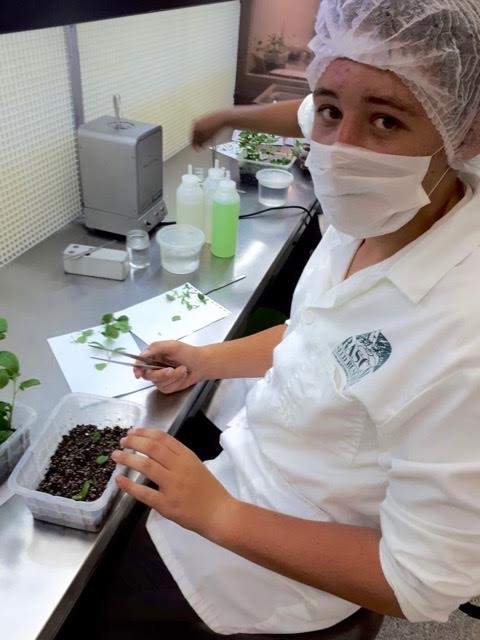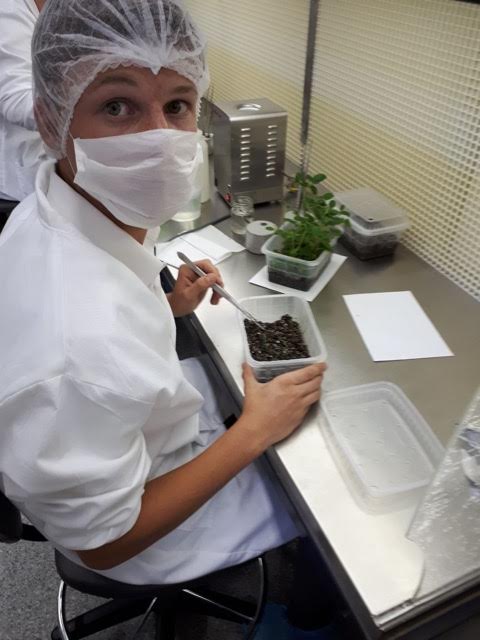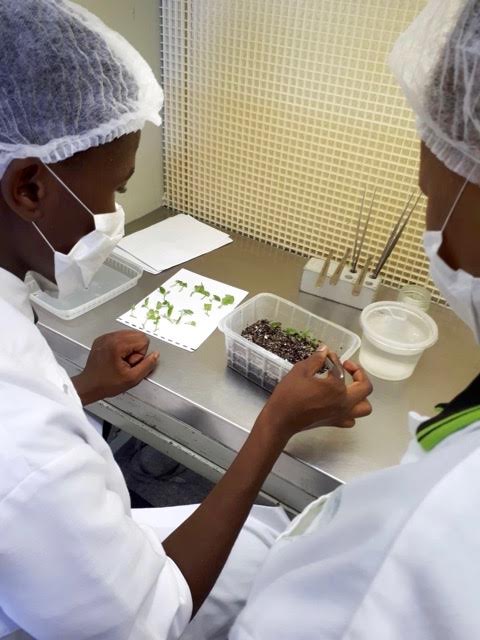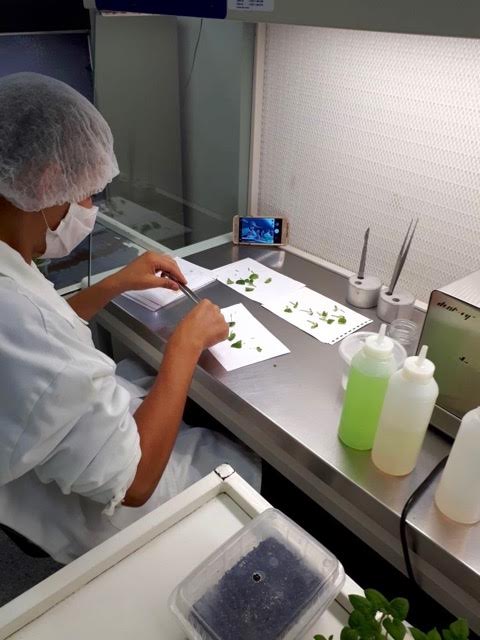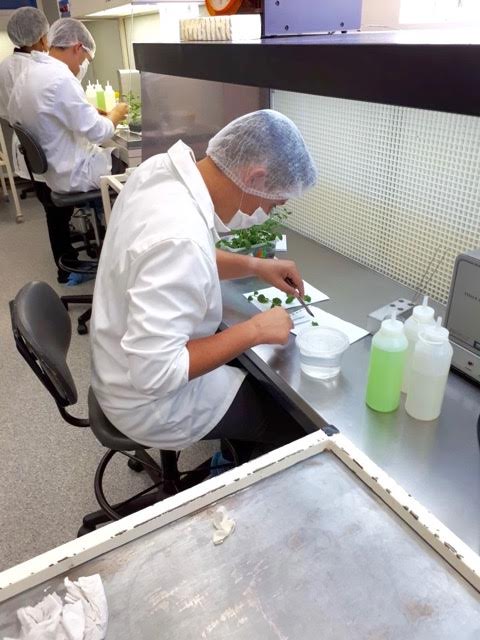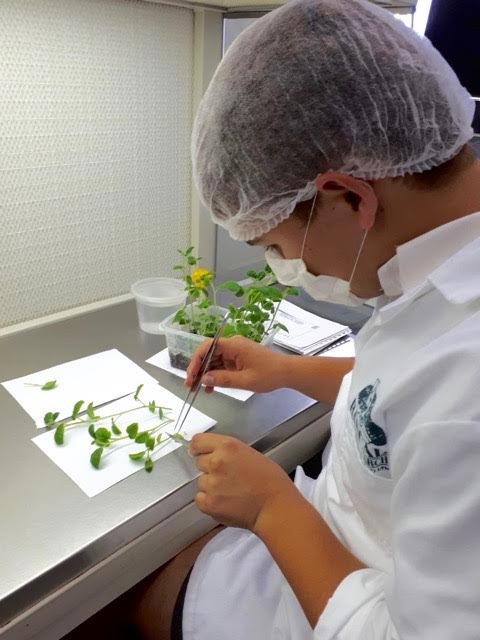 Natuurlik het die Gr.10—groep nie op hulle laat wag nie ...